GE's Bolsinger Participates on Expert Panel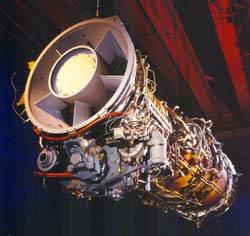 GE Marine's General Manager, Brien Bolsinger, participated in a panel during the United States Navy League's Sea Air Space industry exposition held recently in National Harbor, Maryland. Bolsinger discussed how GE's LM aeroderivative gas turbines can help the United States Navy keep ship power costs effective, while employing modern technologies.

During the panel session, Obsolescence: From Design to Modernization* held on April 17, Bolsinger indicated he believes the U.S. Navy can ensure ship power stays cost-effective and current for the life of the ship by following these three recommendations:

Select gas turbines with a large commercial and industrial base;
Standardize on one gas turbine across multiple platforms; and
Select equipment with total ownership cost (TOC) weighted more heavily than acquisition price.
1. Select Gas Turbines with Large Commercial/Industrial Base

Bolsinger used GE's popular LM2500 gas turbine as an example of an engine with a large commercial and industrial customer base that remains an ideal choice for the U.S. Navy. There are more than 2,000 LM2500s in operation around the world, including 31 international navies. This solid fleet experience provides for a large international infrastructure ready to support the LM2500 when U.S. Navy ships are deployed.

Currently 650 LM2500s power U.S. Navy ships, with GE delivering 14 additional gas turbines in 2012. "In total we are manufacturing and selling approximately 150 LM2500s this year with the majority going to industrial pipeline, platform, and power generation applications. We see this number growing over the next decade," said Bolsinger.

GE remains committed to maintaining a common engine configuration between marine and industrial variants. In addition, the company has invested more than $200 million over the past 20 years in this product, thus improving LM2500 power, efficiency and reliability.

"We can afford to make this investment because of the large commercial base. Thus the U.S. Navy directly benefits from our investment," Bolsinger indicated. "In fact, the LM2500 has grown in power over the years from 21,500 shaft horsepower (shp) to 29,500 shp -- almost a 40% increase in power."

In fact, Bolsinger indicated that the U.S. Navy has adopted GE's recommended LM2500 common engine program, commencing with the DDG 51 restart program. The LM2500 common engine program allows GE to leverage the LM2500 industrial volume to control cost, improve manufacturing and spare parts lead times in support of the U.S. Navy fleet.

Common engine improvements include parts upgrade of the LM2500 compressor rotor, the turbine mid-frame, the compressor rear frame and the power turbine. Starting in 2012, all new LM2500 engines ordered by the U.S. Navy will use this new configuration, which has been recertified to U.S. Navy Mil 901D shock. The common engine configuration will be introduced to international naval customers over the next several years.

The expansive LM2500 fleet warrants a large inventory of parts to be maintained, another major benefit to the U.S. Navy. Most industrial operators run engines 24/7, 365-days a-year, providing fleet leader experience to resolve field issues.

"Whenever new and improved components are developed, a key GE design criteria is to ensure it can be used on units already in the field as potential upgrades, keeping the entire fleet state-of-the-art. If for some reason a retrofit is not possible, a supplier of the prior configuration is maintained for the life of the engine, thus avoiding the product from becoming obsolete," Bolsinger stated.

2. Standardize One Gas Turbine Across Multiple Platforms

Over the last several decades, the U.S. Navy has used the LM2500 to power frigates, cruisers, destroyers, amphibious landing craft, and now littoral combat ships. This has allowed the U.S. Navy to significantly reduce its TOC.

According to Bolsinger, "crews can move from one ship to the next with no incremental training because each ship uses the same engine. Gas turbine spare parts and tooling to support the fleet are reduced to one common pool for all ships, overhaul of engines can be streamlined in one facility, and any U.S. Navy investment in the product impacts the entire fleet of ships realizing a 'great bang for the buck.'"

Standardization using one engine is not new. Bolsinger noted that its GE38 -- being developed for the new CH53K U.S. Marine Corps helicopter -- is the exact same engine being considered by the U.S. Navy for the Ship-to-Shore Connector and future DDG 51 turbine-generator sets.

3. Make Sure Selections are Made with TOC Weighted More Heavily than Acquisition Price

Bolsinger indicated the factors he reviewed need to be weighted more heavily in acquisitions which tend to be more focused on recurring acquisition price. "Believe me, I understand acquisition price is critical in today's environment, but I think there are ways to give evaluation credit to the types of ongoing fuel, operational, and obsolescence considerations I've mentioned today," Bolsinger concluded.