British Naval Vessel Makes First Post-Gaddafi Libya Visit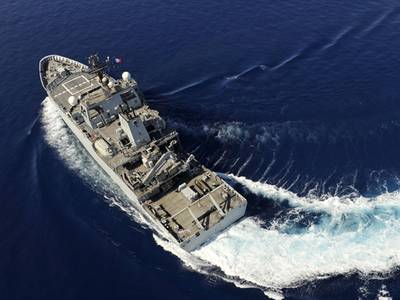 Survey ship HMS Echo become the first Royal Navy ship to visit Libya since the fall of Colonel Gaddafi.
HMS Echo, in the final stages of a 19-month mission to gather ocean data and update nautical charts in waters east of Suez, began her Libya visit with firefighting and damage control demonstrations, tours of the ship, and an extensive look at Echo's impressive hydrographic and oceanographic survey equipment which just a short time before had discovered an underwater 'mountain' the size of Gibraltar in the Red Sea.
The tours culminated in a day at sea and the survey equipment was used to search the approaches to Tripoli, where using her multibeam echo sounder the ship discovered an uncharted wreck and put her side-scan sonar in the water to fully investigate the find which was suspected to be a sunken Second World War liberty ship.
Back in Tripoli, marine engineering students from the city's university filed aboard and were given an extensive tour of the ship's propulsion plant and the unique 'Azipod' thrusters which give Echo her incredible manoeuvrability.
Commander Matt Syrett, Echo's Commanding Officer said: "Martyrs' Square was a pleasant place for a cup of coffee and it was fascinating to see the balcony from which Gaddafi used to address the masses. Tripoli had the same 'hustle and bustle' of any other North African city and it was a really positive sign that the country is looking forwards not backwards."