Maritime Professionals Ask the Hard Questions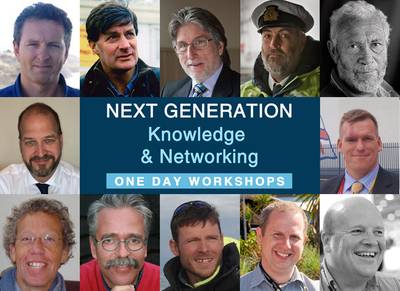 More than 80 maritime professionals attended two unique one day events focused on the sub IMO / sub 24 meter sector in Southampton this April.
The fast moving and dynamic one day workshops brought together an international group of experts armed with the latest knowledge to identify problems that affect the maritime sector worldwide. The superb team of presenters shared unique insights and highlighted potential solutions for a changing world.
Workshop lead John Haynes said, "The format of these one day events is shaped by our experience and is constantly evolving. Topics focus on visible marine industry issues today, plus hidden areas of concern we may need to face tomorrow. The latest feedback shows that our fast Workshop pace works well, plus our cutting edge Q&A sessions linked to panel discussions are particularly useful. We ask the audience for burning questions – and we certainly get them!"
High profile roles are evolving close to shore in U.K., EU and international waters. Expectations, requirements and capabilities are changing for many maritime organizations. Boat operators are undertaking tasks they never envisaged, with fleets that were procured in a different time and place. Challenges may be changing, but safety still remains high on the agenda for professional mariners.
MAN OVERBOARD PREVENTION & RECOVERY highlighted that man overboard and death by drowning or exposure is still the prime risk for anyone that goes to sea. Industry expertise included presentations of innovative products by Spinlock, 3Si, Life Cell and Harken Industrial. Julian Morgan, CEO of KPM Marine, ended the day with a fine summary of the day's proceedings then invited the group to enjoy a networking drinks reception sponsored by KPM.
RS & WBV WHOLE BODY VIBRATION looked at how professional fast craft operators can learn techniques to improve efficiency and safety for everyone onboard. Jim Taylor of SKYDEX Technologies, Julian Morgan of KPM Marine and Paul Taylor of SHOXS ended the day with a stimulating group session titled, 'Learning from On Water Trials, Testing and Other Transport Sectors to Improve Crew Safety'. RS & WBV sponsors included Scot Seats and Shockwave.
Haynes added, "We focus on viable innovation and using people's time effectively. We also know that having the right people onboard is essential and there is no substitute for meeting the experts face to face when asking the hard questions. We are really proud to welcome onboard this great group of maritime professionals and thought leaders."
NEXT GENERATION Workshops cover sensitive topics that are highly relevant to workboats, pilot boats, patrol boats, search and rescue, wind farm support, fisheries inspection, survey vessels, superyacht tenders and the emerging applications for unmanned surface vessels. Industry attendees include boat builders, equipment manufacturers and designers plus maritime academia and legislators. Supporters include Southampton University, Southampton Marine & Maritime Institute, UK Maritime Pilots Association, British Marine, Shipbuilders & Shiprepairers Association.
MAN OVERBOARD Prevention & Recovery - Presenters
Captain Andrew Moll – Deputy Chief Inspector, Marine Accident Investigation Branch
'How ALL Marine Sectors Can Learn From Man Overboard Incidents'
Captain Don Cockrill MBE FNI – Secretary General, UK Maritime Pilots Association
'Man Overboard Around Ships, Workboats and Port Support Vessels'
Captain Jon Stafford – Pilot, Port of London Authority
'Pilot Overboard in the North Sea and South Atlantic'
Sir Robin Knox-Johnston CBE – Chairman, Clipper Ventures
'Lessons from Man Overboard Incidents'
Paul Savage OBE – Maritime Medical Solutions Consultant, Saviour Global Solutions
'7 Ways To Die In Cold Water' (Crucial Factors That Can Help Survival)
JoJo Mains – Community Safety Intelligence Manager, Royal National Lifeboat Institution
'RNLI Analysis of Incident Statistics from On Water & Close To Water Activities'
RS & WBV Repetitive Shock & Whole Body Vibration - Presenters
John Haynes – Managing Director, Shock Mitigation
'Developing a Holistic Strategy for Shock Mitigation on Fast Boats'
Hans van der Molen – Head of Technical Projects & Innovation, KNRM (Dutch Lifeboat)
'Shock Mitigation Innovations on Prototype KNRM Dutch Lifeboat NH1816'
Prof. Jelte Bos, TNO – Dutch Organization for Applied Scientific Research
'How Vessel Motion Affects Human Health and Performance'
Dr. Tom Gunston – ISO Seat Testing Working Group
'How Understanding Repetitive Shock and Whole Body Vibration can Reduce Injury'
Dr. Thomas Coe – Senior Consultant, Frazer-Nash Consultancy / Naval Design Partnership UK MoD 'Multidisciplinary Approach to Maritime Shock Mitigation'
Jim Taylor – SKYDEX Technologies / Paul Taylor – SHOXS / Julian Morgan – KPM Marine
'Learning from On Water Trials, Testing and Other Transport Sectors to Improve Crew Safety'
Game changers and forward thinkers are invited to Southampton this October:
Shock Mitigation Solutions Workshop - October 24, 2017
RIB & HSC High Speed Craft Workshop - October 25, 2017
Systems Safety & Equipment Workshop - October 26, 2017