Adm. Watson Kicks Off N.Y./N.J. Propeller Club Year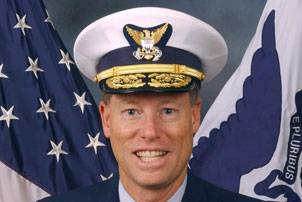 Rear Admiral James Watson, the United States Coast Guard's Deputy Commander for the Atlantic Area, will kick off the membership year of the Propeller Club Chapter of New York/New Jersey on February 3rd with a presentation designed to inform the attendees about changes and initiatives on the horizon for the region. The meeting will run from 5-7PM at the Harvard Club (27 W. 44th St., NY, NY) and will include a reception. The cost to attend is only $25 for members and $50 for non-members.

Rear Admiral James Watson assumed duties as Deputy Commander, Coast Guard Atlantic Area Command in April 2010. Prior to that, he had served as Atlantic Area's first Director of Operations, with operational assets that include 147 cutters, 97 aircraft and 1,106 boats in 26 Sectors east of the Rocky Mountains.

Rear Admiral Watson was promoted to flag rank in 2007. His first flag assignment was Director of Prevention Policy for Marine Safety, Security and Stewardship, Coast Guard Headquarters, Washington DC where he was responsible for Waterways Management, Boating Safety, Commercial Vessel Safety and Security, Ports and Cargo Safety and Security, Maritime Investigations, and Quality Traveling Inspectors.

The Propeller Club Chapter of New York/New Jersey welcomes all members of the maritime industry to join. Its primary purpose is to provide a forum for industry leaders to exchange information and ideas, and to further education of students in maritime schools. Now in its second year of rebuilding the chapter, it now boasts 135 members. In 2010 it hosted a fundraiser for the New York Harbor School.