NAMJet Propulsion for New Oyster Boat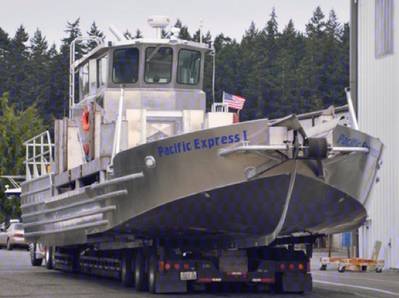 NAMJet to provide Traktor Jet propulsion system for the new oyster harvest vessel 'Pacific Express 1'.
Washington ship builder Penn Cove Shellfish (dba Everest Marine) has chosen Arkansas-based NAMJet to provide the propulsion system for its new oyster harvest vessel, Pacific Express I.

Custom-designed by Stew Everest for Coast Seafoods and operating in Grays Harbor, Washington, the Traktor Jet powered Pacific Express provides exceptional maneuverability and power in the shallow, windy working conditions common across the Pacific Northwest.

Powered by a single 425-horsepower (hp) John Deere diesel, Pacific Express' NAMJet TJ-610HT waterjet pushes the 64-foot, vessel to an impressive 15-knot top speed, while a Wesmar V-10 bowthruster helps the vessel to stay on track during harvest.

The boat features a stainless steel, hydraulic tilt-deck designed to allow one man to offload 40 tons of oysters in about 45 minutes. Two similar vessels, the Willapa Express and the W.E. Morris Express use the same tilt-deck system and are presently operated by Coast Seafoods in Willapa Bay, Washington.

Pacific Express 1 launched in April for sea trials out of La Conner, Washington. It was then hauled out and blocked, prepped and painted. Capt. Eric Daigneault of Penn Cove Shellfish delivered the vessel to Coast Seafoods in Markham, Washington on April 23rd, making the trip at 12.5 knots under 85% load with a top speed of 15.1 knots.

Pacific Express is the first of a four-boat order by Coast Seafoods. Its first sister vessel, Pacific Express II, is slated for launch in September of this year, and Pacific Express III and IV will launch in 2014.