Florida Shipyard Purchases Mobile Boat Hoist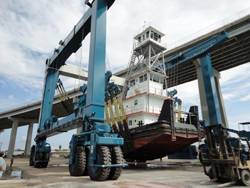 Jacksonville shipyard purchases a Marine Travelift 600C to compliment existing dry dock.
The Commodore Point Facility at North Florida Shipyards, Inc. has been providing commercial ship repair and modernization support to customers for over 30 years. To maintain its current customer base and generate new business the shipyard invested in a Marine Travelift 600C mobile boat hoist with the assistance of federal stimulus package funds.
Through the U.S. Department of Transportation Maritime Administration's assistance to small shipyards program, North Florida Shipyards received about $3.3 million towards the purchase of the mobile boat hoist. The Marine Travelift 600C mobile boat hoist will lift vessels out of the water for repair without using a dry dock, allowing more than one vessel to be worked on at a time.
This is the first time North Florida Shipyard has received financial assistance from federal, state or municipal jurisdictions. In addition to purchasing the Marine Travelift 600C mobile boat hoist, the Shipyard's $7.5 million project also included constructing a launch/recovery basin and upgrading its existing work-site. "North Florida Shipyards wanted to improve their ship repair productivity and create viable jobs. So they looked into purchasing a mobile boat hoist and found the 600-ton Marine Travelift fit the bill," said Dale Harris, owner of Harris Equipment Systems, Inc.
The new mobile boat hoist is aiding the Shipyard's ability to handle a larger share of the market, generating new customers and added income; in addition to hiring new employees and completing projects faster. "We've gained a greater advantage in the whole region. Having the new Marine Travelift 600C mobile boat hoist and seven lay berths gives us the flexibility of scheduling, handling emergency repairs and providing quick turnaround times to better serve our customers," said North Florida Shipyards General Manager and Dock Master Steve Ashley. "With the boat hoist's mobility we are also using more of our facility that has remained under utilized until now."
North Florida Shipyard's resources and expertise provide both commercial and government customers with cost-effective vessel conversion, dry docking and repair services. The shipyard's commercial experience includes tanker and cargo ships, passenger vessels, tugs, barges, offshore supply vessel and offshore yachts.
North Florida Shipyards chose the 600C mobile boat hoist because of Marine Travelift's dependable parts and services department, innovative engineering, product quality and performance, and overall reputation. The shipyard also wanted to buy an environmentally friendly product made in the United States.
The mobile boat hoist allows the Shipyard to perform construction and repair projects while keeping contaminants away from the water. "Our new mobile boat hoist is very environmentally friendly. It's an important advantage in helping us maintain a respectable track record in keeping our waterways safe," commented Ashley.
One of the premier features of the 600-ton Marine Travelift is the hydraulic sling adjustment. The sling adjustment maximizes the versatility and lifting potential because the boat hoist operator can change the spacing between the slings with a touch of a button. This includes the rear sling set adjustments which are hydraulically adjusted and come as a standard feature on all machines. The operator can also reposition the slings to improve load placement prior to the vessel being lifted from the water.
Harris Equipment Systems, Inc. will continue to support North Florida Shipyards with service for the Marine Travelift 600C mobile boat hoist. "I've been associated with Marine Travelift for over 20 years and I think they have the best products hands down," said Harris.
For more information about Marine Travelift and its full range of mobile boat hoists, call (920) 743-6202, e-mail the sales team at sales@marinetravelift.com or visit www.marinetravelift.com.
The world's first mobile boat hoist was conceptualized and manufactured in Sturgeon Bay, Wisconsin, in 1945. Officially established in 1954, Marine Travelift Inc. has a long-standing reputation as a marine industry leader and is recognized for its tradition of excellence on a global scale. The company manufactures mobile boat hoists, marine forklifts, self-propelled transporters and other related marine lifting products. It also has an extensive U.S. and international dealer network, with more than 3,500 units in service worldwide.