New RAmparts 3200B Design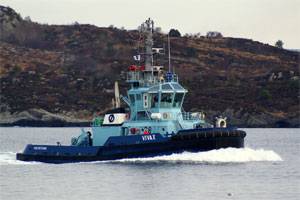 For several years Sanmar Denizcilik Makin eve Ticaret Ltd., of Istanbul, Turkey have been building a successful line of RAmparts 3200 Class tugs, to a design by Robert Allan Ltd., Naval Architects of Vancouver, B.C.
In 2007 the Norwegian owners, Østensjø Rederi AS approached Sanmar with a requirement for a very similar tug to this standard 105 ft RAmparts 3200 Class tug, but with higher power and a demanding suite of outfit. This requirement led to a close collaboration between owner, builder and designer to develop a revised, beamier design which would address all the owner's requirements and the standards of outfitting and equipment, while also respecting the builder's normal procedures and standards for new construction.
For Robert Allan Ltd., this was a unique contract, working closely with two long-term clients. The architecture company reported that working with both sides of the table, balancing the demands of the owner with the strictures of the builder was challenging, but in the final analysis accomplished in good-faith discussions and negotiations on all sides. The hull form reflects the double chine form that characterizes all Robert Allan Ltd. designs, with a sweeping chined stern. A large escort skeg is fitted forward to enhance the indirect towing capability and to provide enhanced roll stability.
The result is a new generation of ASD tug, designated by Robert Allan Ltd., as the RAmparts 3200B Class, and by Sanmar as the Eskort 80 series which is suitable for a wide range of duties including harbor towage and ship-handling, coastal towing, and escort operations. It is also equipped for firefighting and oil spill response duties.
Specification of the first of Class Vivax, handed over to the owners in November 2008:
Length 105 ft
Beam, Moulded 39.3 ft
Depth, Moulded 17.5 ft
Maximum Draft (overall) 20 ft
Power 4800 kW
The tug is classed by ABS:A1 Towage Service, Escort Vessel, ABCU, Fi-Fi 1, Oil Recovery Class 1, Unrestricted Service.
On trials the vessel achieved a mean Bollard Pull of 80 tonnes, and a free-running speed of over 14 knots.
Tank capacities are as follows:
Fuel Oi 51,513 gal
Potable Water 9,986 gal
Engine Lube Oil 396 gal
Fi-Fi Foam 9,246 ft
Recovered Oil 30,116 gal
Features of the RAmparts 3200B design include a large aft deck with side crash rails to facilitate towing and oil recovery operations; and a half-raised forecastle running nearly half the length of the tug to provide a high standard of accommodation and a good sea-keeping capability for operation in exposed conditions.
The vessel has been outfitted to the highest standards for a crew of up to six people. The main deck features a generous Master's cabin with en-suite facilities, a Ship's office and a spacious crew mess/lounge, served by a fully equipped galley. The lower deck contains the Chief Engineer's cabin, also with ensuite plumbing, and two crew rooms, equipped for either single or double occupancy. These two crew rooms share access to a common lavatory space. The wheelhouse is designed for maximum visibility with a single control station providing maximum visibility to both fore and aft deck working areas. The noise levels throughout the accommodation and control spaces of the tug are in the vicinity of 60 dBA, achieved by utilizing advanced methods of isolating main propulsion machinery, as well as high grade insulations and floating floor techniques.
Main Propulsion for the Vivax comprises a pair of Wartsila 8L26 diesel engines, each rated 2400 kW at 1,000 rpm, and each driving a Rolls-Royce model US 255 Controllable pitch Z-drive unit in ASD configuration. The indirect escort steering force, yet to be exercised at full-scale, is estimated at 80 tonnes at 10 knots.
The electrical plant comprises two identical diesel gen-sets, each with a 400 volt/50 Hz. power output of 120 kW. A 40 kW harbour gen-set id also provided.
Fire-fighting is to Fi-Fi 1 Class, using FFS pumps and Monitors.
The main hawser winch forward is a single drum type, containing 150 m of high-performance UHMWPE towline. Aft there is a double-drum towing winch, each side of which carries 950 metres of 52mm steel wire rope. Both winches are Rolls-Royce supply. The aft deck is also served by a 65 t-m capacity knuckle boom crane.
Ship-handling fenders at the bow comprise a 900 x 450 cylindrical fender above a row of 450mm "W" block fenders. A 300 x 300 hollow "D" fender provides protection at the main and foc'sle deck sheer lines, and "W" block type fendering is used again at the stern.