Warship Received by Royal Thai Navy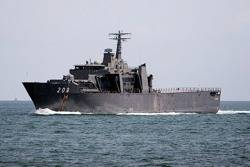 The Thai Navy has received its first Endurance-class landing platform dock ship HTMS Angthong from ST Marine, Singapore
The Royal Thai Navy has officially received the first Endurance-class landing platform dock ship, HTMS Angthong (LPD-791) at Laem Thien Port, Sattahip naval base in Chon Buri, Thailand.
The design of the LPD is proprietary to ST Marine and is based on its Endurance Class of LPDs. The design is proven by the four 141m Landing Ship Tanks (LSTs) that ST Marine built for theRepublicofSingapore Navy. The LSTs have been deployed successfully on many occasions to provide peacekeeping duties in the Gulf, humanitarian assistance and disaster relief efforts during the 2004 Indonesian tsunami and more recently as part of the international anti-piracy Combined Task Force in the Gulf of Aden.

With a displacement of about 7600 tonnes, the LPD has a well-dock with a stern as well as a side ramp designed for expedient embarkation and disembarkation of equipment and personnel. This versatile vessel is capable of supporting myriad missions, ranging from sea transportation, naval support operations, civil search and rescue to disaster relief missions. To support these missions, its heli-deck can land up to two medium-sized helicopters of about 10-tonnes each.

ST Marine secured this contract worth some S$200m, to design and build this LPD as well as two units of 23m Landing Craft Mechanised and two units of 13m Landing Craft Vehicle and Personnel. Work for the LPD commenced in mid 2009 and the vessel was launched in March last year.