Davie Begins First Resolve-Class AOR Conversion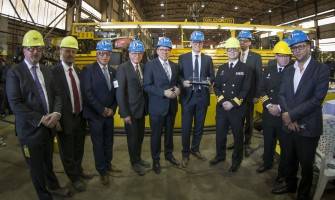 Davie Shipbuilding has cut first steel for the Resolve Class Auxiliary Oiler Replenishment vessel.
The project consists of converting a containership into an Auxiliary Oiler Replenishment (AOR) ship to support the operations of the
Royal Canadian Navy
. This type of conversion has already been performed a number of times by international navies.
"Today's ceremony shows Davie at its best. We are uniquely able to deploy significant resources to the production of large-scale shipbuilding projects like Resolve. Davie is the biggest shipyard in Canada, with the highest production capacity in the country and with the continent's very best shipbuilders. We stand ready to deliver" said Jared Newcombe, Davie's Chief Executive Officer.
With the presence of the Mayor of Lévis, Gilles Lehouillier, Jean D'Amour, Minister for Maritime Affaires, and Jean-Yves Duclos, Minister of Families, Children and Social Development and deputy of the
Quebec region
, the event marks the launch of a major project for the region, Quebec and Canada as a whole.
Spencer Fraser, CEO of Federal Fleet Services, the owners of the Resolve-Class AOR, said, "Through this program, Davie will provide
Canada with
the biggest vessel in operation for the Royal Canadian Navy and with its greatest humanitarian assistance and disaster relief capability"