OOCL Reports Higher Revenues for 1Q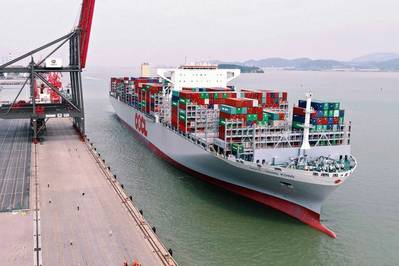 Hong Kong-based container shipping and logistics service company Orient Overseas Container Line (OOCL) reported revenues for the first quarter of 2018 at $1.38 billion, up 16.3 percent from the first quarter of 2017.
OOCL carried 1,579,578 TEUs in the same period 7.5 percent more than in the same 2017 period.
A press briefing said that the loadable capacity increased by 16.0% and the overall load factor was 6.4% lower than the same period in 2017. Overall average revenue per teu increased by 8.3% compared to the first quarter of last year.
OOCL's volumes were up 16.3 in the transpacific, up 20.5 percent in the Asia-
Europe trade
lane and up 2.2 percent in the transatlantic but down 1.1 percent in the intraAsia/
Australasia trade
lanes.
Revenue, however, was up across the board: up 19.2 percent in the transpacific, up 23.8 percent in the Asia-Europe trade lane, up 1.9 percent in the transatlantic and up 13 percent in the intraAsia/Australasia trade lanes.
"The Board wishes to remind investors that this operational update for the first quarter ended 31st March 2018 is based on the Group's internal records and management accounts and has not been reviewed or audited by the auditor," said the statement.