Rolls-Royce Wins $69m OSV Contract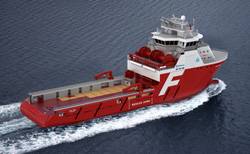 Rolls-Royce won a $69m order to design and equip two advanced offshore anchor handling vessels for Norwegian ship owner Farstad Shipping. The UT 731 CD vessels are designed and equipped to handle anchors for
oil rigs
, tow rigs to location and also serve as supply vessels. They can operate in extreme climatic conditions and ultra deep waters, undertaking precise rig manoeuvring operations in water up to 3,000m deep. They are also equipped for sub sea construction and installation duties. Each vessel will feature a fully integrated equipment system from Rolls-Royce including deck machinery and
vessel control systems
. They will also include diesel electric hybrid propulsion systems to reduce the total fuel burn and cut CO2 emissions.
"Rolls-Royce has a close working relationship with both Farstad Shipping and STX OSV," said Anders Almestad, Rolls-Royce, President - Offshore. "These customers' repeated choice of our market leading technology highlights the value
Rolls-Royce delivers
and the Group's ability to design and equip robust, highly advanced offshore vessels that deliver optimal results for their owners and operators."
Both vessels will be built at the STX OSV Langsten yard in Norway and are scheduled for delivery in the first half of 2014. Farstad Shipping has now ordered eight vessels of this type. Each of the vessels will have a deck cargo area of about 760 sq. m. and the gross tonnage is approximately 6100 GT. The bollard pull is around 260 tons and installed power is approximately 24000 BHP.