Rolls-Royce Designs UK's New Polar Research Vessel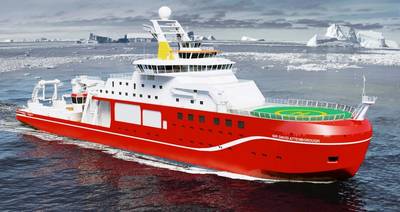 Cammell Laird has selected a Rolls-Royce design for the U.K.'s future polar research ship, which, when built, will be one of the most advanced scientific maritime vessels ever constructed. Rolls-Royce will also supply machinery and equipment for the vessel in a deal worth $43.6 million.
The 128 meter long ship, which will be named RRS Sir David Attenborough, will be built at the modular construction hall at Cammell Laird's site in Birkenhead on Merseyside. Cammell Laird, which offers a range of marine and heavy engineering services including shipbuilding, beat off competition from around the world, to win the deal and keep the work in the U.K.
The New Polar Research Vessel (NPRV), representing a $288 million government investment, is being commissioned by the U.K.'s Natural Environment Research Council (NERC) for operation by the British Antarctic Survey (BAS). The project is the biggest commercial shipbuilding contract in Britain and one of the biggest for more than a generation. The ship's purpose, when it enters service in 2019, will be to carry out oceanographic and other scientific work in both the Antarctic and Arctic as well as transporting supplies to Antarctic research stations.

Universities & Science Minister, Jo Johnson, said, "As part of our record investment in science capital, the $288 million RRS Sir David Attenborough will secure the U.K.'s position as a world leader in polar research. The ship's construction is securing hundreds of jobs and creating apprenticeships in Merseyside – continuing its proud history of shipbuilding."

Paul Fox of NERC said, "This new polar research ship will keep U.K. scientists at the forefront of climate and ocean research in both Antarctica and the Arctic. This new state-of-the-art platform will support a broad range of science; including oceanography, marine ecology and geophysics."

"Equipped with on-board laboratory facilities and capable of deploying robotic technologies the new ship will enable scientists to carry out research programs that address urgent societal issues such as the need to understand the impact of polar ice melt and its effect on climate, global ocean circulation, sea level and the functioning of the ecosystems that regulate the planet's life support systems," Fox said.

Cammell Laird's requirements for Rolls-Royce to meet when designing the vessel included: Polar Code 4 ice class, a high endurance factor, with the capacity to be self-sufficient in fuel and supplies on voyages up to 19,000 nautical miles, space for a total of 90 people and a large cargo capacity.

The vessel is also designed to generate very low levels of underwater radiated noise and minimize the risk of pollution. Onboard laboratories will allow the prompt analysis of samples. Rolls-Royce will provide Cammell Laird with the diesel electric propulsion system powered by the new Bergen B33:45 engines (two nine-cylinder and two six-cylinder engines) and equipped with two Rolls-Royce 4.5m diameter Rolls-Royce Controllable Pitch Propellers (CPP). The powerful, efficient and compact engines and strong propellers will be able to push the vessel through approximately one meter thick level ice with low underwater radiated noise, avoiding interference with survey equipment or disturbing marine mammals and fish shoals.

Jørn Heltne, Rolls-Royce, Senior Vice President for Sales in Ship Design & Systems, said, "A key part of our extensive delivery for Cammell Laird included in this vessel will be the automation and control systems, including our Dynamic Positioning system and the award winning Unified Bridge. This will provide the crew with the most advanced and innovative working conditions and operator tools on a vessel bridge today."

Rolls-Royce deck handling systems will support a wide range of tasks. These include, for example, towing scientific equipment for subsea acoustic survey equipment using up to 12,000 meters of wire, or deploying equipment over the side or through moonpool to collect seawater and seabed samples at depths of up to 9,000 meters.

In its supply vessel mode the UT 851 PRV will be able to transport fuels and containerized cargo. It will also have a helideck with the capacity to operate two helicopters.