Russian Shipyard Delivers Salvage/Rescue Vessel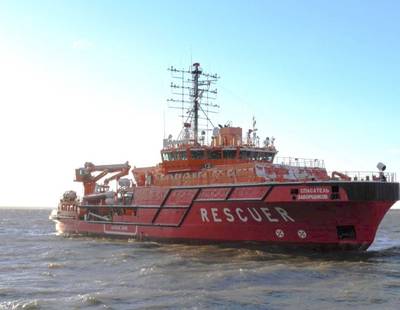 The salvage vessel Spasatel Zaborschikov has been handed over by Nevsky Shipyard to the appropriate department of Russia's Transport Ministry after successful sea trials.

The M/V Spasatel Zaborschikov (Rescuer Zaborschikov) is third in a series of multi-purpose 4MW salvage vessels of project MPSV07, under construction at the Nevsky dock. The series design was developed by Marine Engineering Bureau-Design-St. Petersburg, JSC.

Main characteristics:
Length overall - 73,0 m

Width overall -16,6 m
Depth - 6,7 m

Service drafts - 4,0 - 5,1 m

Capacity of power plant - 4 MW

Full speed – 15 knots

Bollard pull - 70 t

Endurance - 20 days

Ship crew - 20 persons
Places for survivors - 81
The shipbuilders say that the vessels in the MPSV07 project are the largest and the most significant built as a part of the Federal Target Program of Russian Transport System Development (2010-2015).