Schottel Propels Trawler "Argos Cíes"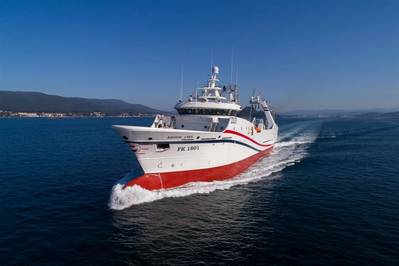 The trawler Argos Cíes, built in Spain at Nodosa shipyard, is equipped with propulsion equipment from Schottel including a controllable pitch propeller and atransverse thruster.
Measuring 74m long, Argos Cíes is the largest fishing vessel ever built at the Galician shipyard. Operated by Jupiter Fishing Company, the trawler is mainly used to fish for squid in the South Atlantic. The project was realized in close cooperation with Reintjes España, Schottel's partner inthe Spanish maritime market.
Argos Cíes is powered by a 3,000 kW Wärtsilä 6L32 main engine which drives a Schottel Controllable Pitch Propeller type SCP 100 4-X with a propeller diameter of 4,000 mm. In addition, the stern trawler is equipped with an electrically driven Schottel Transverse Thruster type STT 1 FP which provides an input power of 400 kW.