Scientists Slam BC LNG Proposal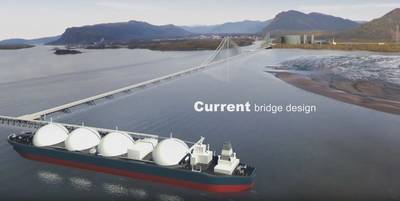 International climate scientists are calling on the Canadian government to reject a proposed liquefied natural gas project by Petronas-backed Pacific NorthWest LNG in British Columbia, saying it would have dire environmental effects, according to a report in Canadian Press.
According to a letter signed by the experts, "PNW LNG would be one of the single largest point source emitters in Canada."
Ninety academics from Canada, the United States,
Australia
and the United Kingdom released an open letter Monday saying the Pacific NorthWest LNG project would be one of the country's largest greenhouse gas emitters, and if built, would
undermine Canada
's climate change commitments.
The $36-billion dollar plant backed by Malyasian state-owned energy giant Petronas is slated to be built south of Prince Rupert, B.C.
Their data claims when upstream emissions are added to facility emissions, the project would add between 18.5 and 22.5 per cent to British Columbia's (BC) total greenhouse gas (GHG) emissions.
"This would make it virtually impossible for B.C. to meet its GHG emission reduction targets, and would undermine Canada's international climate change commitments," reads the letter. "As scientists and climate experts, we are deeply concerned about the effects of climate change in this country and abroad."
The letter is being sent to Environment Minister Catherine McKenna and copied to Prime Minister Justin Trudeau, Natural Resources Minister Jim Carr and Justice Minister Jody Wilson-Raybould.
One of the signatories is UNBC professor Brian Menounos who is a nationwide leader in the study of glacier change. He says shrinking snowpacks and glaciers have been linked to an increase in greenhouse gases over to past 30-40 years.
"As a scientist, I think it's only prudent to let the federal government know that this Petronas LNG project would contribute substantial greenhouse gases to the environment."
The future of the LNG industry in
British Columbia depends
in part on addressing climate issues. Federal Environment Minister Catherine McKenna has said she wants to see the B.C. climate plan as she contemplates approval for the project. Her decision is expected later this year.