Damen MultiCat for Scotmarine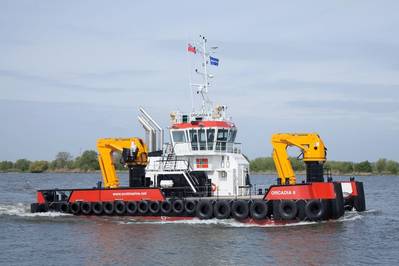 New vessel for tidal energy projects in U.K.'s Northern Isles

Damen Shipyards Group delivered a Multi Cat 2613 on April 30, 2015 to Orkney, Scotland-based chartering company Scotmarine to be used for offshore tidal activities in Scotland's Northern Isles.

The hull of the new vessel was in stock and customized for the client earlier this year. The 50-metric-ton bollard pull vessel has a large crane and will replace the stock vessel Multi Cat Orcadia Scotmarine purchased three years ago.

Scotmarine will deploy the new vessel in developing underwater tidal energy farms for Scot Renewables Tidal Power. The Scot Renewables floating tidal technology uses low-cost Multi Cat workboat vessels for installation, maintenance and decommissioning to save tidal developers' installation costs.

The experience Scotmarine gained with the first vessel was instrumental in the development of the design for this new vessel, the builder said. Damen Sales Manager UK Casper Vermeulen commented, "It's a bulky, beamy boat that offers excellent stability and lifting capacity."

This robust Multi Cat is strong enough to pull and position underwater tidal turbines in heavy currents, Damen said. Managing Director Damen Marine Services (DMS) Rik van Prooijen added, "A MultiCat has to drop and embed heavy anchors in the seabed and connect turbines to these anchors. You need a powerful vessel to do so."

For the offshore tidal industry in the Northern Isles, Damen has delivered over the past five years a number of other Multi Cats now in operation. Recently a Multi Cat 2712, measuring 27 meters in length and 12 meters in beam, with a maximum bollard pull of 35 metric tons, was delivered to GreenMarine Energy Support Services. Other Damen Multi Cats include the 2613 and 2611, examples of which are operated by Delta Marine in the Shetland Isles.