First of Series of RAstar 3600 Class Tugs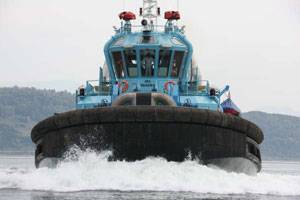 The Lamnalco Sana'a, the first in a series of four new high-performance Terminal/Escort tugs, was delivered in April 2009 by Med Marine of Turkey to the owner's, Lamnalco of the United Arab Emirates. The Lamnalco Sana'a is yet another of the unique RAstar series of tugs being built for major LNG terminal operations worldwide, all to new designs developed by Robert Allan Ltd., Naval Architects of Vancouver, B.C.

The principal particulars of this RAstar 3600 Class tug are as follows:

Length (o.a.) 117.5 ft
Beam, moulded 47.5 ft
Depth, moulded 19.8 ft (above design baseline)
Maximum operating draft 21.3 ft (to underside of drives)

Tank capacities are as follows:
Fuel Oil 62,345 gal (at escort service draft)
Potable water 33,286 gal
Foam 9,510 gal
Lube Oil 528 gal

This powerful escort tug is equipped for typical ship-handling and escort work, with a PLIMSOL model PC-HAETW/CDDG-26-50/250 double drum hawser winch on the fore deck, with a capacity for each drum of 300 metres 64mm diameter plus 150 metres of 80mm UHMWPE synthetic hawser. The escort-rated winch is driven by a twin-pump electro-hydraulic set, and features a two speed drive system, capable of line recover/rendering at 50 tonnes line pull at 20 metres/minute, or 16 tonnes at 60 metres/minute (first layer). The aft deck is fitted with a heavy duty towing winch, a PLIMSOL model PC-HTW/SD-80/150, fitted with 750 metres of 52mm diameter SWR, with a brake capacity of 150 tonnes. The aft deck is also fitted with PLIMSOL Pneumatic towing hook with rated load of 100 tonnes, and a large knuckle boom crane.

There are accommodations for a crew of up to ten persons. Two spacious officer's cabins are located on the main deck, each with private en-suite facilities, and below decks are four double cabins, two of which also have private en-suite facilities. The fully equipped galley serves a large common lounge/mess area, equipped with the latest in video and audio entertainment systems.

In common with the majority of Robert Allan Ltd. designed tugs, attention was paid to mitigating noise and vibration. This includes the essential resilient mounting of the main engines, isolation of all exhaust system components, and the extensive use of visco-elastic floating floor systems throughout.

The wheelhouse is designed to provide maximum all-round visibility from a single split type master console.

The Lamnalco Sana'a is built in accordance with Bureau Veritas regulations for a 1+ Hull, + Mach X Escort Tug, Fire Fighting Ship 1 with water spray, AUT UMS, unrestricted service.

The fire-fighting capability is provided by a pair of FFS main-engine driven pumps, each rated 1,378 cubic metres per hour, which serve a pair of FFS-1200SB water/foam monitors, each rated at 1,200 cu. metres/hour, and the self-protection waterspray system.

Electric power is developed by three of 315 kW diesel gensets, and by a third harbour/emergency gen-set, rated at 90 kW.

The main propulsion components are the following:

Engines Wartsila 9L26, 3,060 kW at 1,000 rpm at 100% MCR
Z-Drives LIPS CS300-S1WN-K, Input power 3,060 kW at 1,000 rpm

The new tug successfully completed trials in Turkish waters with the following critical results:
Bollard Pull, ahead 118 tonnes maximum
Bollard Pull, astern 110 tonnes maximum
Free running speed, ahead 15.1 knots

The RAstar design represents a truly unique development in offshore tug design. The hull form incorporates a significant sponson on the upper hull sides. When the tug is heeled over under influence of the towline during an escort operation, the downhill sponson is submerged and a large righting force is generated to improve the stability, thus increasing the towline force. In addition, the hull has a large foil-shaped skeg, also designed to increase indirect towline forces.

The RAstar hull form also provides dramatic reductions in roll amplitude and roll accelerations, thus providing a much safer and more comfortable platform for crews, who are now being asked to conduct docking operations at LNG terminals and similar installations in up to sea-states of 3.0 metre significant wave heights.