Seven Rescued from Disabled Tug off Maryland
Seven people were rescued from a tug that went adrift off the U.S. East Coast.
A crew member aboard the tug Legacy notified watchstanders at Coast Guard Sector Maryland-National Capital Region at about 3:30 a.m. Saturday that while towing a 290-foot barge from New Jersey, to Guyana, a 1,000-foot towing line became entangled and fouled their starboard propeller about 30 miles offshore from Ocean City, Md.
The vessel continued to make way on one engine when the tow line snapped. The crew attempted to regain tow of the barge at which time the line became tangled in the port propeller immobilizing the vessel. The tug's crew member said Legacy was inoperable and that the crew was making preparations to abandon ship.
The 154-foot Coast Guard Cutter Lawrence Lawson, homeported in Cape May, N.J., was already underway and diverted to the incident to help. Once on scene, the cutter's crew was unable to get near the disabled tug or barge due to on scene weather and concern that the loose tow line beneath the water's surface would foul the Coast Guard cutter's propellers. The Lawrence Lawson maintained station and provided critical assistance to responding units and ensured safety of the seven crew members.
Coast Guard Sector Maryland-National Capitol Region launched an MH-65 Dolphin helicopter crew from Coast Guard Air Station Atlantic City, N.J., and an MH-60 Jayhawk crew from Coast Guard Air Station Elizabeth City, N.C., to hoist the seven people from the vessel. After all seven people were safely hoisted, the air crews transported them to Ocean City Municipal Airport in Maryland with no reported injuries.
The tug's crew activated their emergency position indicating radio beacon (EPIRB), and the Coast Guard MH-60 deployed a self-locating data marker buoy (SLDMB) for Coast Guard watch standers to track the tug and barge while awaiting commercial salvage.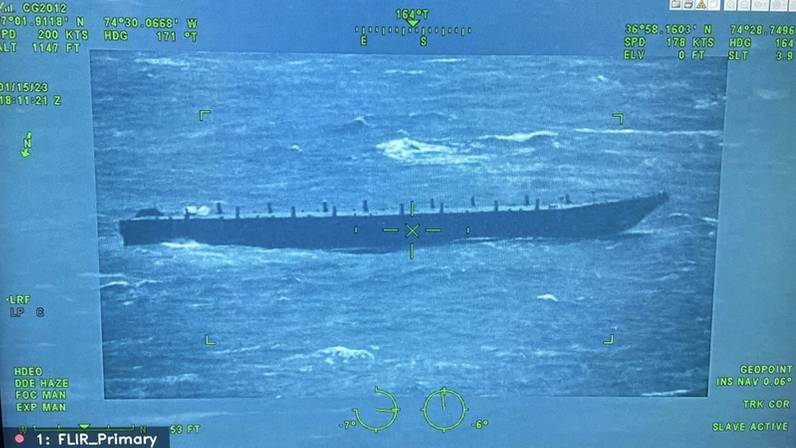 A 290-foot-long barge broke loose from the tug Legacy after a tow line snapped about 30 miles offshore from Ocean City, Maryland, on Jan.15, 2023. (U.S. Coast Guard photo)