Eastern Shipbuilding to Build Large Fishing Trawler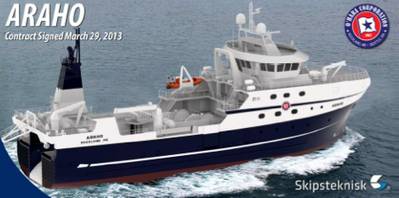 Eastern Shipbuilding Group contracted by O'Hara Corporation to construct a 194-ft freezer stern-trawler.
The new vessel is a ST-115 design by Skipsteknisk, AS of Aalesund, Norway, and will be built to DNV classification rules: +1A1, Stern Trawler, E0 Notation for hull, and DNV ICE 1B designed, outfitted and inspected for harsh cold environments.

The vessel design has a highly efficient hull shape which reduces hull resistance and increases fuel efficiency. The accommodation and interior outfitting is designed for 54 persons, excluding the hospital and completely insulated for the harsh working environment.

The vessel is fully equipped with state of the art systems for bottom and pelagic trawling with single trawl. The winches are electrically driven and provided by Rapp Hydema, and are designed for regeneration of power. The main processing equipment, in the enclosed factory will consist of various types of fish heading machines and factory systems, consisting of transport systems, fish grader, storage tanks, weighing graders, weighing system, packing tables, packing machine, automatic horizontal freezer system H1, block elevators, etc.

The design intention of the process deck lay‐ out and selected equipment for transport and handling is to obtain a system with the largest amount of automation, assisting the employees working in the processing area. This arrangement is designed to achieve very high throughput with minimum fish damage, improve employee efficiency all in a clean and safe work area.

The vessel is powered by an EPA Tier 3 compliant EMD MEL16‐710G7 diesel engine rated at 4,000 HP at 900 RPM provided by Valley Power Systems, Inc. of Seattle, WA. The propulsion vertical offset Lufkin reduction gear model VSQ4134HG‐K‐PTO with a 7.20:1 reduction is Owner supplied.

Secondary electrical power is provided by two 550kW Caterpillar C18 Tier 3 generator sets and emergency power is provided by one 95kW Caterpillar C4.4 Tier 3 emergency generator, and all are rated for 60 Hz, at 480 vac.