Ingalls Shipbuilding Helps in Local Red Cross Makeover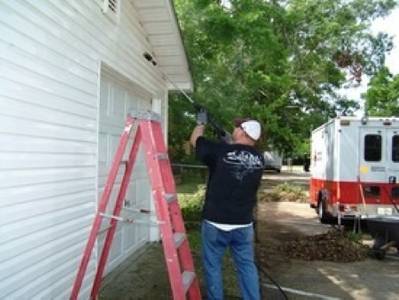 Volunteers from Huntington Ingalls Industries' Ingalls Shipbuilding division recently helped freshen up the grounds and interior of the American Red Cross' Pascagoula office.
Participants in Ingalls' Legacy Builders Executive Mentoring Program dedicated two weekends in June to the community project.

Working both indoors and out, Ingalls' Legacy Builders landscaped and performed ground maintenance in addition to updating the office with shelving, fresh coats of paint and a television installation. The team, consisting of Ingalls employees and their family members, also built a shaded sitting area for Red Cross volunteers.

"Ingalls has been giving back to the community for 75 years, and this was an opportunity to continue that tradition and give back to an organization that is recognized for giving so much to people in need," said Todd Thompson, risk manager at Ingalls.

The Legacy Builders Executive Mentoring Program matches up-and-coming Ingalls leaders with vice presidents from different shipyard departments to encourage the mentees' leadership development and expand their knowledge and understanding of the shipbuilding industry. To develop leadership skills, mentees in the program are encouraged to plan and lead a community service project. The Red Cross Grounds Refresh Community Project was conducted as part of the Legacy Builders' 2012-2013 community service program. In addition to this project, Legacy Builders also volunteered at various non-profit organizations throughout Jackson County.

"The Legacy Builders are transforming our Pascagoula office inside and out," said Jay Huffstatler, South Mississippi chapter executive. "Their efforts are making our work areas and volunteer spaces more efficient and appealing."