Matson, Aker Ink Shipbuilding Deal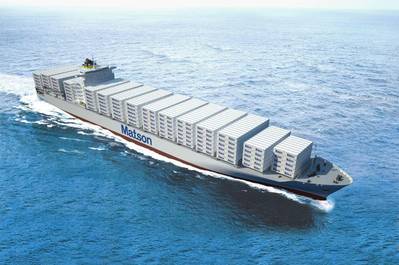 Matson Signs Contract With Aker Philadelphia Shipyard For Two New "Aloha Class" Containerships, First Ship To Be Named The Daniel K. Inouye.

Matson, Inc., a U.S. carrier in the Pacific, announced today that its subsidiary, Matson Navigation Company, Inc., has signed a contract with Aker Philadelphia Shipyard Inc. (APSI) to build two new 3,600 TEU containerships for an aggregate price of $418 million. The new vessels will be equipped with dual fuel engines that have liquefied natural gas (LNG) capability and are expected to be delivered in the third and fourth quarters of 2018. Matson also announced that the first of the two new ships will be named after the late Senator Daniel K. Inouye, who was a longstanding supporter of the U.S. maritime industry and its role in supporting Hawaii's economy.

"We are pleased to introduce the Aloha Class containership, built specifically to meet Hawaii's future freight demands with increased cargo capacity," said Matt Cox, president and CEO, Matson. "The new ships are designed to accommodate the diversified mix of cargo needed to support the state's economy and will boost our capacity for moving 45-foot containers and refrigerated cargo. The ships will also carry construction materials more effectively. Most importantly, this considerable investment underscores Matson's long-term commitment to providing Hawaii with a strong, reliable lifeline to and from the U.S. Mainland."
"The decision to name the first Aloha Class ship in honor of Senator Inouye was a natural one," Cox continued. "He left an unparalleled legacy in Hawaii history, and was a true champion of the U.S. Merchant Marine. He is recognized throughout the maritime industry as one of its most powerful advocates. Having a modern, U.S.-flag containership dedicated to serving Hawaii bear his name is an appropriate tribute to this great man." The 850-foot long vessels will be the largest Jones Act containerships ever constructed and are designed to operate at speeds in excess of 23 knots, ensuring timely delivery of goods in Hawaii. Importantly, the ships will also be able to navigate safely into some of Hawaii's smaller ports.

The new vessels will incorporate a number of "green ship technology" features such as a fuel efficient hull design, dual fuel engines, environmentally safe double hull fuel tanks and fresh water ballast systems. "These state-of-the-art advancements are important to Hawaii as a means to reduce fuel consumption, resulting in significant emission reductions over time in our home trade," Cox said.
Aker Philadelphia Shipyard is a leading U.S. commercial shipyard constructing vessels for operation in the Jones Act market. The shipyard delivered four newly-built Jones Act containerships for Matson between 2003 and 2006.
"We have a proven track record of building containerships and are greatly looking forward to being partnered with Matson again," said Aker Philadelphia Shipyard President and CEO Kristian Rokke. "The winning of this order provides the shipyard significant backlog and valuable visibility out to 2018."