Shipping Giants May Miss Climate Targets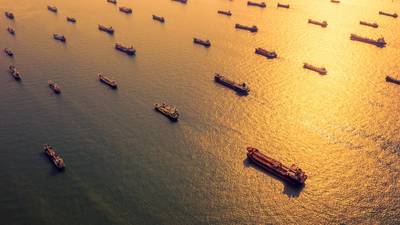 A new report says shipping companies failing to push for the critical technologies required to reduce their carbon footprint, such as emission-free ships.
CDP, an international non-profit that drives companies and governments to reduce their greenhouse gas emissions, said that the world's shipping heavyweights are not investing in key technologies to reduce their carbon footprint, with the sector at risk of not meeting the International Maritime Organization's (IMO) targets to reduce greenhouse gas emissions by 50% by 2050.
Against the backdrop of the IMO's recent strategy to reduce the industry's greenhouse gas emissions by half by 2050, there is heightened pressure on shipping companies to take a long-term approach in curbing their carbon footprint, pointed out new report 'A Sea Change' from CDP.
To date Maersk, HMM and Norden are the most ambitious in setting long-term targets to reduce carbon emissions, consistent with the IMO's strategy. However, the report finds there is a gap between the cutting-edge carbon neutral technologies available to companies, and the forms of innovation they are developing.
CDP's analysis of marine innovations finds that only three are actively developing technologies that can have a transformative impact on the industry.
Companies such as NYK are working towards developing zero-emission vessels for 2050, while Maersk and NORDEN are actively pioneering the use of 'second generation' biofuels produced from waste sources such as cooking oil. Wider innovation trends currently focus on technologies and fuels that only deliver marginal improvements.
Slow steaming – slowing down ships significantly below their maximum speed - is an important short-term solution capable of reducing carbon emissions by up to 30%.
13 of the 18 companies were found to have a formal slow steaming policy including K Line, HMM, Euronav and COSCO S.H who have established 'super slow steaming' policies. Although slow steaming is positive in the short term, it could result in more voyages to meet growing demand, eroding the emission reductions made by slowing down ships.
The research also finds that while container companies which carry consumer goods such as clothing and food are resilient to long-term decarbonization trends, they are facing increasing scrutiny and pressure as their customers look to cut emissions from their supply chain. On the other hand, Bulk and Tanker companies that transport fossil fuels and other commodities face risks from changes in demand for these products due to wider decarbonization trends.