NAMEPA Host Shipping Industry Awards Dinner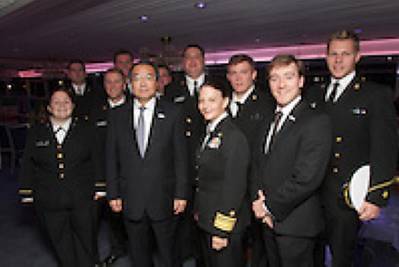 Shipping luminaries gathered recently in New York to discuss issues and recognize achievements at the 2013 North American World Maritime Day and NAMEPA (North American Marine Environment Protection Association) Marine Environment Protection Awards Dinner.
"NAMEPA was honored to host this annual event, and gratified by the interest and participation at the highest levels of shipping in our industry" stated NAMEPA Chairman Clay Maitland. "Experts mingled with harbor school and maritime academy students, which helps fuel the next generation of shipping greats."

Topics covered in the day's conference included promoting a safety culture and environmental stewardship, energy efficiency, new technologies and innovation, maritime education and training. The luncheon keynote address was delivered by Secretary-General Sekimizu who underscored the urgency for collaboration on developing a sustainable maritime transportation system.

Most of the fireworks were reserved for the Risk Management panel chaired by shipping professional Morten Arntzen. In addition to Secretary-General Sekimizu, Teekay's Peter Evensen, ITOPF's Karen Purnell, Philip Shapiro of Libery Maritime, Torben Skaanild, Nicky Pappadakis and Donald Roussel combined to discuss risk assessment and mitigation both on ships and the shore. Peter Evensen underscored the importance of training, caring for the crew, need to exceed regulatory compliance as a necessary business decision.

The day was capped by the NAMEPA Marine Environment Protection Awards. Earning the Corporate Award was Teekay Corporation; the Association Award went to ITOPF (International Tanker Owners Pollution Federation Limited); the Government Award to Transport Canada; the Non-Profit Award to National Geographic; and the Individual Award to Torben Skaanild.

On hand to applaud Peter Evensen and Teekay Corporation for receiving NAMEPA's Marine Environment Protection Corporate Award were shipping bankers Martin Lunder of Nordea, Craig Fuehrer of Deutsche Bank Securities, Mark Friedman of Evercore Partners, Loli Wu of Bank of America Merrill Lynch and others. Their presence underscored the increasing importance of environmental issues to ship finance.

Next year's North American World Maritime Day event will be held in Cozumel, Mexico. NAMEPA's Annual Marine Environment Conference and Awards Dinner will be in New York on October 29, 2014.

About NAMEPA
The North American Marine Environment Protection Association (NAMEPA) was officially launched in 2007. It is an independent marine industry-led initiative that engages marine businesses, government and the public to "Save the Seas" by promoting sound environmental practices.