Shipping Magnate Maersk Moller Dies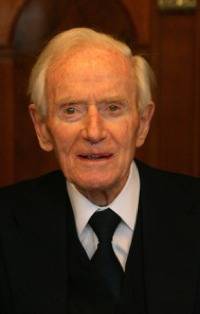 Arnold Maersk McKinney Moller of the conglomorate AP Moller-Maersk Group dies aged 98
The AP Moller-Maersk group operates Maersk Line, the world's biggest container shipper. Its business also includes offshore oil and gas activities and retail and shipyard operations.
Mr. Moller's last public appearance was at the firm's annual general meeting last week.
Known to all as 'Mr. Moller', he took over the leadership of the group in 1965, following his father's death that year. He left daily management in 1993, and was chairman of AP Moller-Maersk A/S until 2003.
Mr. Moller is survived by three daughters. His wife Emma Neergaard Rasmussen, whom he married in 1940, died in 2005. Until his death he was chairman of the board of several foundations that are major shareholders in the group.
Flags fly at half-mast at the group's HQ in Denmark.