Smart Shipping: Transas CEO Sifts through the Hype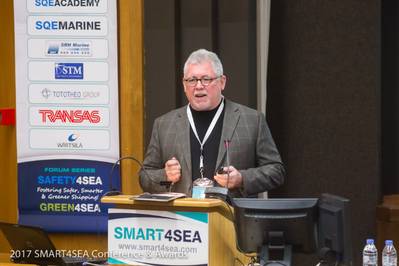 Transas CEO Frank Coles delivered a presentation at 2017 SMART4SEA Conference & Awards, where he voiced his views on "smart shipping", from big data and cyber security to unmanned ships.
We live in a world where we hear the words, smart ships, connected ships, unmanned ships, automated ships, etc. We hear statements about a digital shipping world and a forecast of new business models in shipping. It's a confusing world, a fast moving world. What is the reality and how do we sift through the hype?
Shipping has many elements: logistics, cargo booking and trading, port control, chartering, container management, etc. I think it is important to not generalize about the ecosystem and simply say shipping when considering the impacts of digitalization. Everyone can be a visionary or futurists if they simply say shipping is going to be digital. Many parts of shipping are already digital, many sections of shipping is digital and many parts are already going there. These are largely the parts connected to cargo handling, logistics, the parts connected to the shore and the associated business ashore. They matter more in the financial equation, they are much larger and more important in terms of scale.
The part we all call shipping, ship owning and technical operations is really the asset ownership, the asset management and is a small niche in the whole picture. We have elements in this that are going digital – like charts, like navigation, training – but it is not happening anywhere near as fast as the more lucrative logistics side of the shipping business. It will come, but we still debate the why and how. Maybe because crews are still cheap enough, maybe because there are actually on 40,000 SOLAS ships that carry the world trade, which is relatively small in scale compared to the number of containers, the value of the cargo, etc. Maybe we just have not provided the right model for the ship owners and operators yet.
Before we can really consider an unmanned ship we need to resolve several key elements of the business of ship operations. We need a workable ecosystem, we need connectivity and we need acceptable cyber security. It is my proposition that none of these exist today.
In effect we need the reliability of the Fleet broadband equipment and system with the bandwidth of an always on pipe that is cost effective for remote maritime operations. There remains however the final question of cyber security.
Cyber security is nothing more than smart IT procedures and process using certified equipment. If you install an ECDIS or a GMDSS unit, or a radar or indeed any other required and designated piece of bridge equipment, it needs to be certified by Class and pass through a large and significant list of regulations. Today's modern ship to shore communications used for operations and being touted for unmanned ships contains no such regulations and as such is the weak link in the chain. This is like allowing the office network operate without any controls over what is installed or used on the computers.
A final word on cyber security, and some salient points. The human is the biggest danger, the more access we give them, the higher the risk. Then there is the cyber missile, the thumb drive, able to destroy an ECDIS or any system in seconds. Last by no means least, AIS, the system by which many seem to be building digital solutions, using the AIS positional data. This is, in my opinion a high risk strategy. Attack Infiltrate Spoof is a better way to think of AIS.