MARAD Awards $9.8 Mln to US Shipyards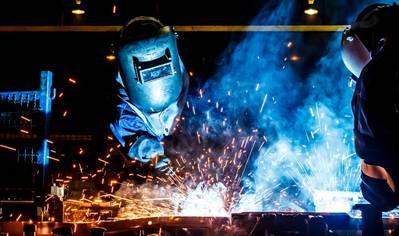 Aiming to support shipbuilding modernizations that will increase productivity and allow U.S. shipyards to compete more effectively in global markets, the U.S. Department of Transportation's Maritime Administration (MARAD) has awarded $9.8 million to 18 U.S. yards through its Small Shipyard Grant Program.
"Small shipyards play a significant role in our country's maritime sector, which contributes to our economy, security, and infrastructure," said U.S. Transportation Secretary Elaine L. Chao. "In addition, these grants will support local communities by creating jobs for working families."
Small shipyard facilities vary in size, from family-owned businesses employing a few dozen workers, to multifaceted establishments with hundreds of employees. The grants, which were primarily available to U.S. shipyards with less than 600 production employees, are generally less than $1 million each, but can make a huge difference in a shipyard's bottom line.
"U.S. shipyards produce some of the world's best-built vessels," said Maritime Administrator Mark H. Buzby. "These grants will fund the kinds of upgrades and modernization that ensure America's shipbuilding industry remains strong and competitive internationally."
A complete list of shipyard grant recipients follows:
Vigor Alaska, LLC. of Ketchikan, Alaska was awarded $533,014 to support the purchase of a robotic pressure washer, milling machine, shear, VFD air compressor, air pallet load module, lathe, scaffolding and stair towers, electric capstans and pneumatic fenders.
Bay Maritime Corporation in Alameda, Calif. was awarded $509,718 to support the purchase of a CNC bed mill and a CNC bridge mill.
Thames Shipyard & Repair Company, Inc. in New London, Conn. was awarded $191,762 to support the purchase and installation of confined space surface preparation equipment.
Jeffboat, LLC of Jeffersonville, Ind. was awarded $479,150 to support the purchase of an 80-ton grove mobile crane.
National Maintenance and Repair of Kentucky, Inc. was awarded $377,433 to support the purchase of a Vantage Oil Country lathe.
Gulf Island Shipyards, Inc, of Houma, La. was awarded $757,168 to support the purchase of a laser CNC cutting machine and a CNC pipe bending machine.
A & Z Marine, Inc. of Port Allen, La. was awarded $900,000 to support the purchase a 440-ton marine travelift.
Boston Ship Repair, LLC in Boston was awarded $576,000 to support necessary electrical upgrades.
The General Ship Repair Corporation in Baltimore was awarded $388,903 to support the purchase of a drydock wash water removal and processing system.
Portland Shipyard in Portland, Maine was awarded $990,500 to support the purchase of a 330-ton marine travelift.
The Great Lakes Towing Company was awarded $570,065 for capital investment in equipment, tooling and software to improve shipyard efficiency and competitiveness.
Philly Shipyard, Inc. in Philadelphia was awarded $346,544 for modernization and upgrades to a welding system.
Blount Boats, Inc. in Warren, R.I. was awarded $508,927 for metal working equipment, painting enhancements and to purchase a 25-ton marine transporter.
J. Goodison Company, Inc., in North Kingston, R.I. was awarded $635,453 to support the purchase of a wash water collection and treatment system.
Detyens Shipyard, Inc. in North Charleston, S.C. was awarded $466,985 for a climate controlled down draft paint booth, and steel fabrication equipment.
Bludworth Marine, LLC in Houston was awarded $900,000 to build a 3,000-ton floating drydock.
Colonna's Shipyard, Inc. in Norfolk, Va. was awarded $387,500 to support the purchase of a link-belt 110-ton rough terrain crane.
Dakota Creek Industries, Inc. of Anacortes, Wash. was awarded $280,878 to support the purchase of a steel frame bending and straightening machine as well as a CNC router table.
Since 2008, MARAD's Small Shipyard Grant Program has awarded $174 million to 169 small shipyards, helping them to modernize operations, improve efficiency and boost productivity with employee training and new technologies. Including direct, indirect, and induced impacts, total economic activity associated with
American shipyards
is nearly 400,000 jobs, $25.1 billion of labor income, and $37.3 billion in GDP.