From Shrimp To Scrap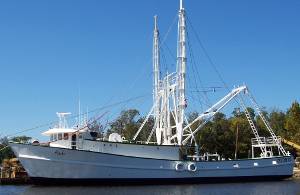 Jimmie Martin of Galliano, La. said his firm is still working on three platforms that were damaged by Katrina in 2005. Martins firm, B&J Martin Inc., operates crew and supply boats in the Gulf of Mexico, but their signature work is their site clearance operation.

The US Mineral Management Services (MMS) mandated in 1990 that all abandoned well sites and platforms had to be cleaned in such a way that a commercial shrimp trawler could work the bottom without damaging their nets. This and subsequent regulatory modifications has created a demand for the vessels, gear and services that B&J Martin provides. The regulations require that the contracted owner must possess a valid commercial trawling license from one of the Gulf States. Since the Martin family has a long history of Gulf shrimping this is a natural. For site verification (i.e. that it has been cleaned), The trawling vessel must be outfitted with trawling nets that are representative of the accepted shrimping industry standard of up to No. 18 twine (ribbon strength) size net strength.

The regulations give very specific details that relate to the verification that the site is clean. But to get it clean, to catch all the stuff that has fallen or been blown over board, requires a different set of nets. To this end Martins company has patented the Gorilla Net. This gear employs a weave of 3/4-inch combination cable at its opening with a body made of twine five-times the strength of a standard trawl net.

Martins boats tow two 80-ft Gorilla nets in the clean-up phase of the operation. "If we are lifting all tires we can bring up five or six tons per net," explained Martin, "but if it is square stuff or has sharp edges we are more limited. On one well we brought up a total of 200 tons of scrap."

Martin has grown his fleet to include two 85-ft single-screw boats, one 95-ft single screw and a 100-ft twin-screw boat. Recently they had a powerful 110 by 28-ft shrimper style vessel built at Rodriguez Shipyard in Bayou La Batre. Rodriguez has built a lot of shrimp boats in the past, but this new boat shares a bit of heft with the jack-up boats that Rodriguez has been building of late. The new shrimper/clean-up boat is built much heavier than a conventional Gulf shrimper. Named the Poncho, it is powered by a pair of 850 hp Cummins KTA38 main engines turning into Twin Disc 5321 gears with 6:1 ratios. This adds up to 1700 HP that is a good bit more power than a conventional shrimper, but it is power that will be put to good use scraping pieces of oilrig off the bottom of the Gulf of Mexico. The new boat from Rodriguez is also fitted with two Cummins-powered 65 kW generator sets.

There is plenty of work for the new boat. Martin explained that to tow the grid on a 1,320-ft radius around a platform will take about 4.5 days when it is all cleaned up. But they have spent up to 90 days cleaning the mess created when hurricane Katrina tipped a rig into the Gulf.

The final part of a clean up requires that conventional gear be towed over the area, Martin uses four 50-ft nets with two-inch mesh. This is equal to what most shrimpers in the area are using. For the clean up to be approved these lighter nets must be towed on a north-south and then an east-west grid. The trawl tracks are recorded utilizing a GPS plotter to demonstrate that the bottom is once again suitable for shrimping.