Maritime Crane Simulators Launched by Liebherr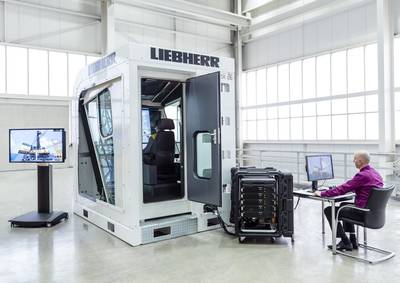 The Liebherr simulators increase port safety & productivity by providing a cost-effective, highly efficient crane operator training solution.
Liebherr say that the development of this advanced training tool was driven by their extensive experience in highly intensive crane driver training. Approved by training experts, the range of simulated cranes includes ship to shore, rubber tyre gantry, mobile harbour and offshore cranes.

The installation of original Liebherr drive systems, software and hardware guarantees a realistic training experience. The drive systems reproduce all crane movements exactly both in space and in real-time. LiSIM® is the only realistic virtual solution available in the market for learning the innovative and precise handling of Liebherr's maritime cranes and their innovative features.

Trainees benefit from the ergonomically designed driver's cabin and control panel. The motion platform ensures that the driver in a Liebherr simulator cabin experiences realistic movement which mimics precisely the response and feel of a crane mounted driver's cabin and seat. Full High Definition flat screen monitors and high quality surround sound speakers reproduce the views and sounds typically experienced in the cabin.

Liebherr simulators are available in three configurations. The classroom solution is easily integrated into existing training centres with the display, seat and controls mounted on a base and a sturdy display frame. The space-saving cabin solution ensures that the driver becomes familiar with controlling the crane in a real life environment. The easy-to-transport containerised solution houses the simulator in a 40ft container and features a training room, utility room and cabin simulator. Each of the three models is equipped with multifunctional instructor stations.