Costa Cruises Simultaneous Christening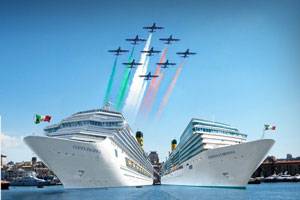 On Friday, June 5, Genoa will host the joint christening of the Costa Luminosa and Costa Pacifica, the two new members of the Costa Cruises fleet. This Guinness record breaking event will involve the whole city in a spectacle of light and music.

For the first time in the history of Italian shipping, two cruise ships will be christened together at the same time in the same place. The Event has obtained the official Patronage of the Department of the Prime Minister and Cabinet of the Republic of Italy.

"An Italian Portrait in Music and Light" is the name of the show that will be staged as part of the christening celebrations. There will be musical and artistic performances accompanied by Maestro Mauro Pagani. Pagani, who is the founder of Premiata Forneria Marconi, composed the sound track for the Costa Pacifica, the first "ship of music".

The event will be broadcast live on the Internet from 10.00 pm at www.rai.tv and www.worldofcosta.com.