Sovcomflot and ABB Open Training Center in Russia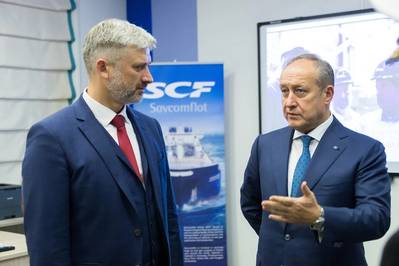 The new Vessel Electric Propulsion Training Center at the Admiral Nevelskoy Maritime State University in Russia will help to prepare seafarers for work on vessels equipped with Azipod propulsion systems
The center will be used to train MSUN cadets, as well as to provide advanced training to commissioned officers of the merchant fleet. It is also planned to conduct research, including scientific and experimental activities, in the area of automation of electric propulsion and vessel power supply.
The establishment of the center follows the trilateral research, technological and educational partnership agreement signed by Russian shipping company Sovcomflot, Swedish-Swiss tech company ABB and the university in 2016, representing the next chapter in a history of longstanding partnership between Sovcomflot and the university, a leading educational center serving the Russian maritime industry.
ABB equipped the new center with the unique Azipod simulator designed to replicate an actual vessel's propulsion system, while Sovcomflot provided the center with appropriate computer hardware. In addition, Sovcomflot took part in preparing the simulator specifications and developing appropriate programs, with an emphasis on operating vessels in the Arctic and sub-Arctic seas.
"An electric propulsion and Azipod propulsion system are becoming increasingly common on vessels with a high ice-class operating in the Russian Arctic and at Sakhalin offshore projects, and ABB feels it necessary to encourage the development of technical competence amongst future seafarers," Irina Kozlova, President of ABB in Russia, Kazakhstan and Belarus.
A ceremonial opening for the new facility was held Monday in Vladivostok as part of the 4th Eastern Economic Forum and the official visit of Evgeny Ditrich, Russia's Minister of Transport, to the University. The ceremony was also attended by: Yury Tsvetkov, Russia's Deputy Minister of Transport and Head of the Federal Agency for Maritime and River Transport; Sergey Frank, President and Chief Executive Officer of PAO Sovcomflot, Honorary President of the University; and Sergey Ogay, Rector of the university.
"The advanced technologies of ABB implemented in Azipod azimuth thrusters provide vessels with high icebreaking capabilities and maneuverability, both extremely important for efficient and safe vessel operation in the adverse climatic conditions of high-latitude seas," Frank commented. "Today, SCF Group operates the world's biggest fleet of ice class vessels equipped with Azipod propulsion systems. Over the years, the company has gained a vast experience of successfully operating such vessels in the severe ice conditions of the Arctic and Far Eastern sees. The new simulation center is created based on this experience, and will enable the training of highly qualified personnel required for the logistical support of large-scale industrial projects, as part of development strategy for the Arctic zone of the Russian Federation and the eastern regions of the country."
Ogay said, "Such a fruitful cooperation of the University with major industrial partners allows it to respond to the shipping industry requests relating to the training of high-quality specialists. The center's equipment also enables the university to explore new research areas."