Dual-fuel Ferry Claimed to be the World's Speediest Ship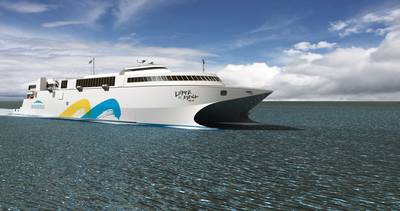 Incat Tasmania's dual-fuel vehicle & passenger ferry 'Francisco' has attained 58.1 knots operating on LNG fuel only.

Francisco has been constructed for South American company Buquebus, for service on the River Plate, between Buenos Aires Argentina and Montevideo, Uruguay.

With water ballast removed, and with both Port and Starboard Gas Turbines operating on LNG; Francisco achieved 58.1 knots at 100% Maximum Continuous Rating (MCR), which the Australian builders take to be a world record, acknowledging that some speedboats might be faster, but not a vessel like this, with a length of 99 metres and a capacity for 1000 passengers and 150 cars.
The vessel's high speed can be attributed to the combination of Incat wave piercing catamaran design, the use of lightweight, strong marine grade aluminium, and the power produced by the two 22MW GE LM2500 gas turbines driving Wartsila LJX 1720 SR waterjets. The extensive and luxurious interior made significant increases to the weight of the interior fitout, however the Incat team worked diligently to maximise weight savings during construction wherever possible.

Incat believes this speed can be improved upon. Chairman Robert Clifford, said: "When we have less fuel on board, and delivery spares removed, we will see that speed go higher still in the shallow waters of the River Plate (Rio Plata). We are delighted with the efficiency of the design and sure that our customer, Buquebus, will be pleased with the results, enabling the ferry to compete with airline traffic on the River Plate route."