TOTE Deploying State-of-the-Art Telematics in Alaska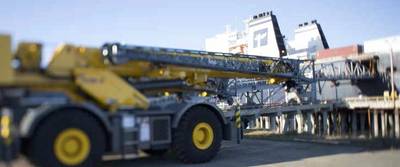 TOTE Maritime Alaska has announced that the installation of ORBCOMM's telematics devices across a broad equipment platform will be complete in the coming months.
ORBCOMM was selected to provide a broad portfolio of telematics solutions to monitor and control its refrigerated, dry and flatbed equipment. TOTE Maritime Alaska is a leading Jones Act carrier serving the Alaska market, connecting greater Alaska to the Continental United States and beyond. This is the second deployment for TOTE Maritime, following the success of the TOTE Maritime
Puerto Rico reefer
management system deployment earlier this year.
By leveraging telematics technology, TOTE can further improve key initiatives across safety, cold-chain, customer experience, and provide the tools to have the most efficient and safe supply chain to the state of Alaska.
ORBCOMM's ReeferConnect and CargoWatch solutions provide real-time cold chain monitoring for TOTE's refrigerated containers and trailers, delivering the precise temperature monitoring capabilities and data needed for ensuring cargo protection as well as compliance with the
Food Safety Modernization
Act regulatory requirements. TOTE is also deploying ORBCOMM's CargoWatch solution for their insulated trailers, dry containers and flatbed equipment to improve cargo tracking and visibility for shippers.
In addition, TOTE is deploying ORBCOMM's VesselConnect solution on their fleet of Roll-On/Roll-Off (RO/RO) vessels for "on-water" monitoring and reporting. This is the first known deployment on a RO/RO vessel in the shipping industry.
ORBCOMM's VesselConnect allows TOTE to receive critical data from its refrigerated containers and trailers, including reefer status and temperature, on the 1,450 nautical mile voyage between Anchorage and Tacoma. A key benefit of ORBCOMM's VesselConnect is enhanced crew safety by eliminating the need to manually check the temperature status and condition of reefers.
TOTE Maritime
Alaska began
installing ORBCOMM's solutions in the second quarter of 2017 and will complete installation of all equipment late Q4 2017 or early Q1 2018.