Maiden Voyage Cargo: a River Steamer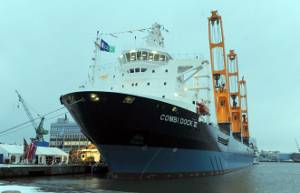 Shipping company owner Peter Harren said declared the building of four specialized heavy lift vessels at Lloyd Werft in Bremerhaven "a grand achievement." At the same time, Harren backed up the hope that Rüdiger Pallentin, Managing Director of the Lloyd Werft shipyard had expressed when the last of this construction series was delivered, underlining: "I am fairly certain that there will be no more than a brief pause in our cooperation." At the Danish/German joint venture K/S Combi Lift, plans are being considered to build two additional heavy lift dock ships as soon as sufficient financing has been secured. In the meantime, MS Combi Dock IV (533 ft in length, 17,341 GRTs) is taking its first special cargo on board in Rotterdam.

Shipping company owners Finn Poulsen (Korsør) and Peter Harren (Bremen) have no doubt that world-wide market demand for heavy lift and project cargo shipping supports a continuation of the Combi Dock series. MS Combi Dock IV left on its maiden voyage on the very day after the naming ceremony en route to Rotterdam where it will load a river cruise vessel destined for Le Havre. A project cargo in West Africa is already waiting for it as its second job.

With the four dock ships built at Lloyd Werft within two years, K/S Combi Lift has gained wide open access to an attractive specialized global market. The three predecessor vessels are very successfully deployed across the world and the fourth – and for now last – ship in the series is part of the same success story. This grew from an idea that originated with Harren & Partner and K/S Combi Lift and was realized in cooperation with Lloyd Werft.