Strategic Marine Building Luxury Crewboat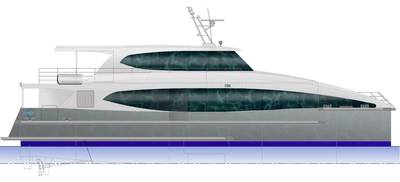 Strategic Marine announced the kick-off of its first collaboration with PT. Pelayaran Tanjung Kumawa, expecting to deliver an exclusive luxury crewboat in November this year.

"The vessel is currently under construction at Strategic Marine's facility in Vietnam," said Rob Boersma, Senior Business Development Manager of Strategic Marine. "This 24-metre luxury catamaran, with capacity for 72 passengers, will be built to the highest industry standard with sixty reclining seats on main deck and a lounge area on its upper deck."

The luxury crewboat will transfer crews from shore to LNG and natural gas processing plant in Indonesia's oil and gas industry. Strategic Marine is working closely with Incat Crowther, the naval architect company appointed, to ensure the designs meeting all specific requirements.

"This is Strategic's first collaboration with PT. Pelayaran Tanjung Kumawa and we are honoured to be awarded the project as it is a clear testament to our competitive solutions," Boersma added. "Strategic Marine's flexibility in customising designs to meet clients' requirements, excellent track record delivering high quality vessels, and competitive pricing, led us to secure the contract."

This contract award highlights Strategic Marine's outstanding performance in aluminium ferry construction. As of the first quarter of 2016, current orders received for aluminium vessels reached 14, ranging between 24 to 70 metres.