Costa Concordia Salvage – Structural Integrity Key Says Expert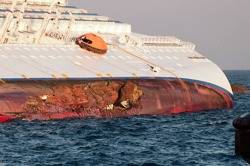 Costa Concordia wreck removal – environmental issues & regional economic impacts among top concerns says Resolve CEO
Joseph Farrell, Founder and Chief Executive Officer of Resolve Marine Group, Inc., among the world's foremost maritime emergency and disaster response, salvage and ship wreck recovery companies, says, "Removal of the capsized Costa Concordia cruise ship from the Tuscany coastline is one of the largest undertakings of its kind – this is a massive and complex operation which the entire world will be watching."
For more than 30 years, Resolve Marine Group has conducted hundreds of seafaring salvage and ship wreck removal operations. His company has responded to ship collisions, vessel fires and disabled, capsized and sunken vessels. Among Resolve's historic headline missions is the oil spill cleanup operation following BP Deep Water Horizon catastrophe in the Gulf of Mexico in 2010 and its recovery of the aircraft and human remains at the Value Jet Flight 592 crash site in the Florida Everglades.
Farrell says, "Resolve Marine Group has worked with Titan Salvage on a number of important maritime ship wreck projects." Titan is the Pompano Beach, Florida, USA company that was awarded the Costa Concordia project along with the Italian marine contractor Micoperi.
"The Costa Concordia is a massive, international assignment that will involve hundreds of personnel including naval architects and engineers, highly experienced salvage masters and a variety of specialists such as environmental consultants," explains Farrell.
"Based on my experience, Titan and Micoperio are staffed with qualified teams for this mission, which, I suspect, will require dispatching equipment and crews from around the globe," explains Farrell.
"The plan to upright the capsized craft; then slowly tow it to a port near Rome could take more than a year to complete," says Farrell. "Because of the magnitude of this project, unlike other salvage operations – and because the cruise ship is so close to land, – the Costa Concordia requires special attention to the environmental concerns and to limiting disruption to the community, which relies almost entirely on tourism for its economic livelihood."