Study: Nonnative Species Carried in Lakers' Ballast Water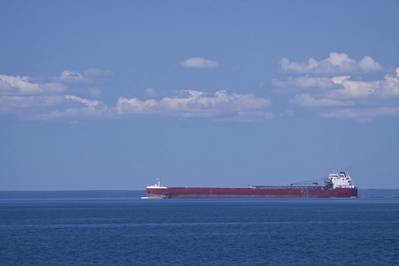 A recent study on nonindigenous species of plankton in ballast discharges from U.S. and Canadian lakers to western Lake Superior documented five species of nonindigenous zooplankton not yet established in western Lake Superior, including Hemimysis anomala ("bloody red shrimp"), in ballast water discharged there. It also detected, in uptake water, a species of zooplankton (Paraleptastacus wilsoni) that had not previously been recorded in the Great Lakes.
Some of the species, including this one, live in harbor sediment and may have escaped routine surveillance to date. Determination of whether the collected nonindigenous species of zooplankton might be able to survive or establish in western Lake Superior waters was beyond the scope of the study.
The research, conducted by The Great Waters Research Collaborative (GWRC), a project of the University of Wisconsin-Superior's Lake Superior Research Institute (LSRI), builds on work conducted by others in the Great Lakes in recent years.
The ships' operators proposed the study as a means of complying with Minnesota Pollution Control Agency ballast water permitting requirements, and approached GWRC to undertake the scientific research. The U.S. Environmental Protection Agency (EPA) paid for the study via the U.S. Maritime Administration (MARAD) portion of the Great Lakes Restoration Initiative.
Ten U.S. and Canadian-flag lakers participated in the study. Sampling took place in 2017, primarily in the late summer through early winter, and focused on ballast water discharges into western Lake Superior of water loaded from the lower four Great Lakes. GWRC also conducted "voyage-wide" sampling on a subset of voyages, documenting selected characteristics of the source water system and the associated ballast water uptake, plus ballast water discharge and the associated receiving system in western Lake Superior.
Ballast water samples were microscopically analyzed for any nonindigenous species of aquatic organisms not yet detected in western Lake Superior waters. Special emphasis was placed on detections of Hemimysis anomala which, until the summer of 2017 when a single specimen was found, had not previously been detected in western Lake Superior. A genetic detection probe targeted to Hemimysis anomala was used to analyze source and receiving water for presence/absence of its environmental DNA.
"We are grateful to the U.S. and Canadian laker industry for facilitating this study. Their willingness to support this research demonstrates their strong commitment to the health of the Great Lakes," said Allegra Cangelosi, LSRI senior scientist, and principal investigator of the study. "The chances that any of the organisms we detected in this study could survive, establish and harm Lake Superior are unknown, and may be negligible. The results nonetheless support greater research emphasis on identifying and validating performance of new ballast water management alternatives for lakers, as well as better understanding the risks of ballast-mediated transfers of organisms within the Great Lakes."
"Since 1993, with the discovery of the Eurasian ruffe in western Lake Superior and continuing with the discovery of viral hemorrhagic septicemia in Lake St. Clair in 2003, the U.S.-flag fleet has actively engaged in voluntary management practices that have helped stop or slow the spread of non-indigenous aquatic species throughout the lakes," said Thomas Rayburn with the U.S.-based Lake Carriers' Association. "We have worked with researchers, state and federal agencies, and our Canadian counterparts to further the knowledge base to drive better decision-making and management options of these non-natives in the future. Our priority is our ongoing commitment to protect the Great Lakes."
"The Chamber of Marine Commerce and its members are pleased to have supported this important research and we continue to work with government and scientists to find practical options to manage ballast water," said Bruce Burrows, president of the Chamber of Marine Commerce. "Canadian shipowners have invested $1.5 million in a Ballast Water Research and Technology Fund to expand research and find technical solutions that are both operationally and economically feasible for the Canadian domestic fleets that operate within the unique conditions of the Great Lakes and St. Lawrence region."
"This study is an important benchmark in protecting Lake Superior and inland waters from unwanted, aquatic species that are not native to the Great Lakes," says Commissioner John Linc Stine of the Minnesota Pollution Control Agency. "We're grateful for the important work done by the Lake Carriers' Association and Chamber of Marine Commerce members. Now it's time to get to work with the vessel owners to develop additional ballast management strategies that further protect Minnesota waters."
The Great Waters Research Collaborative: Great Lakes Ship Ballast Monitoring Project Technical Report is available online at uwsuper.edu/lsri/publications.