Divers Try in Vain to Enter Stricken Indian Submarine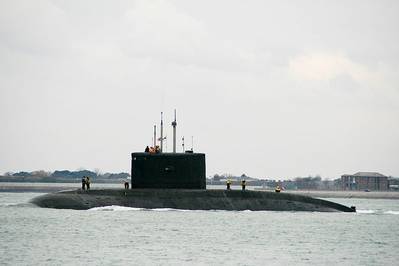 Indian Navy personnel tried all through Thursday, in vain, to enter 'INS Sindhurakshak', the submarine which sank with 18 crew in three metres of water at the Colaba naval dock after a series of blasts nearly 48 hours ago, reports 'The Times of India'.
A large amount of muddy seawater had entered the diesel-powered Kilo class submarine, hampering visibility, and the heat of the explosion had melted parts of the 16-year-old vessel's internal hull, deforming its hatches and preventing access to compartments reports 'The Times of India' citing India Navy sources.
Rescue operations were hit on Thursday as Navy divers, who lack the skills of expert welders or cutters, first tried to enter the sub by cutting through the top. But after hours of fruitless labour found their entry blocked. Changing tack, they tried to get in through the tail section. Simultaneous attempts were being made to refloat the vessel, but the lack of ballast equipment proved to be a hurdle, experts informed the newspaper.
Source: The Times of India