India to Deploy Two Nuclear Submarines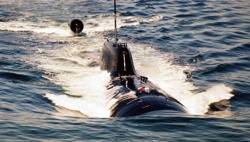 Indian Navy to put two Russian nuclear submarines in service soon
India will operate two nuclear powered submarines soon according to official Russian news agency Rianovosti, as it inducts the Russian Nerpa and launches the indigenous INS Arihant, Defense Research and Development Organization (DRDO). Chief V K Saraswat said,"INS Arihant is in advanced stages. It will be ready for operations within the next few months/"
India is also testing the Sagarika K-15 missile that will be carried by INS Arihant, V K Saraswat said, adding that more than 10 test launches have been carried out in the Bay of Bengal.
The Nerpa has been leased from Russia for ten years. This Akula II-class attack submarine, had originally been scheduled for delivery to India in 2008. However, that date was moved back after twenty people, mostly civilians, died during sea trials earlier that year when a fire-suppressant gas was accidently released on the sub.