Svitzer Orders Tug from Med Marine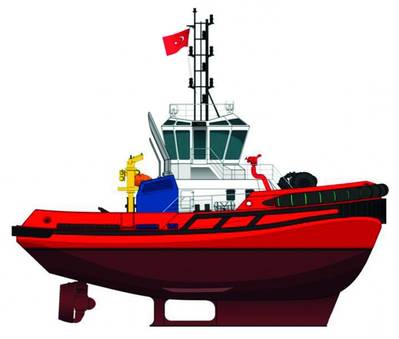 Turkish shipbuilder Med Marine said it has won repeat business from Maersk's towage arm, securing an order to deliver a new 23-meter tug for Svitzer's German fleet.
The contract signed last week for a MED-A2360 series tug follows a deal inked in September 2019 for two 30-meter icebreaking tugs for the Danish operator's Scandinavian operations. The newly ordered vessel (hull name ER80) will have 60-ton bollard pull and is set for November 2020.
The MED-A2360 series tug is based on Robert Allan's RAmparts 2300-MM designed exclusively for Med Marine by the Canadian vessel designer. According to the builder, MED-A2360 series tugs are compact yet robust, and their improved maneuverability allows better versatility even in narrow and shallow ports.
Muhammet Gökhan, Business Development Manager from Med Marine, said the builder has delivered a dozen of the series to operators from different locations including Abu Dhabi, Guatemala, Turkey and now Germany.
The new vessel's specifications are as follows:
LOA: 23 m
Beam: 10.9 m
Draft: 5.05 m
Bollard pull: 60 ton
Speed: 12 knots (approx.)
Main engines: 2 x CAT 3512, 2 x 1.765 Kw @ 1.800 rpm
Propeller: 2 x Kongsberg US205 SP20 FP with 2.400 dia
Fore towing winch: THR Marine (SEC)
Deck crane: Toimil T-10500M SWL10t.m reach 8 m
Generator sets: 2 x Caterpilalr C4.4 86ekW
Firefighting system: 1 x 1.400 m3/hr pump, 1 x foam/water monitor, water spray system
Accommodation: 6 persons
Commenting on the recent tug order, Mattias Hellström, Cluster Managing Director, Scandinavia and Germany, Svitzer said, "Shortly, the new acquisition will join our growing business in Scandinavia and Germany where the design is very well suited to our needs. Together with our customers and crews, we look forward to welcoming the new tug which was actually built next to the two ice class tugs we are expecting next year."
Two ice-breaking tugs are being built for Svitzer's Scandinavian fleet and the delivery is planned at early 2021. The tugs are TundRA 3000 design by Canadian Robert Allan Ltd.. TundRA design is made for tugs operating in extreme winter conditions, which makes it a great fit for Svitzer's North European fleet.