Tech File: SeaGuard high resolution radar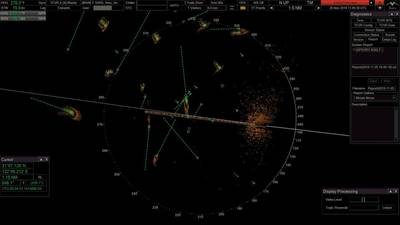 Originally developed for naval use, SeaGuard can enhance situational awareness in congested waters and improve search and rescue operations

Sperry Marine unveiled SeaGuard, a high-resolution radar system designed to deliver a higher standard in navigational awareness for operators of very large cruise ships. Originally developed for navy use, the long-tenured marine electronics maker has already bagged a signature reference for the system. According to Pascal Göllnitz, Associate Product Manager, Sperry Marine, SeaGuard has been installed on Royal Caribbean Cruise Lines' Quantum of the Seas.
Originally designed as a naval surveillance radar capable of identifying small targets in water, SeaGuard differs from conventional radar by providing very high resolution in a solid state transceiver which can scan for targets almost simultaneously across six different frequencies. "We originally designed the surveillance radar software with a high-end solid state doppler transceiver which can do air and surface surveillance," said Göllnitz. "This system, together with an additional set of naval features, has been installed on an Offshore Patrol Vessel for the Chilean Navy."
Substituting the conventional magnetron receiver delivers improved 'clutter' correction and much better performance, especially in bad weather, according to the manufacturer. SeaGuard can support navigators when maneuvering in congested ports and harbors and can also assist with search and rescue in the event of a casualty involving passengers or crew. "As cruise ships continue to grow in size and passenger numbers increase, so do the navigational risks they encounter and operators are more concerned with minimizing the risks of collision," said Göllnitz. "It's also a regrettable fact that cruise ships can be involved in searching for people lost overboard. It is no exaggeration to say that being able to quickly identify and retrieve people from the water can be a life saver."
SeaGuard is intended as an auxiliary system for use in specific operational conditions, providing an additional layer of situational awareness. "The transceiver can meet and exceed the IMO performance requirement and we may consider putting it through the type approval process at a later stage," said Göllnitz. "Currently we are focused on providing versatile features and profiles for a variety of applications. It's to be noted that using it as main navigation radar would prohibit the use of some profiles which are currently in place for tasks like search and rescue." To help navigators keep a close eye on activity in congested waters or quickly begin a search and rescue operation, Sperry Marine has designed the interface to be as intuitive as possible, with a display and menu structure very similar to its navigation radar and ECDIS platforms. "While a conventional navigation radar typically shows large targets, SeaGuard is designed to focus on and distinguish small targets in the water that a navigator normally wouldn't choose to see," adds Göllnitz.
While cruise is a prime target for the SeaGuard system, Göllnitz said there are additional ares of interest. "Cruise is the big focus and see a huge market potential in the cruise sector for SeaGuard; this is a sector that can adopt military level technology for civilian applications. Requests are coming from a variety of different areas other than cruise including offshore and fishery as well as for critical infrastructure protection and coastal security segments and law enforcement."