Theodore Roosevelt Prepares to Return to Sea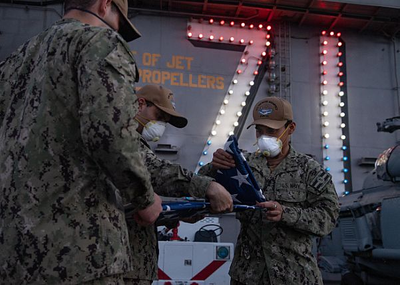 Hundreds of U.S. Navy sailors began the transition from quarantine and isolation to return to the aircraft carrier USS Theodore Roosevelt (CVN 71) Wednesday, as the ship prepares to return to sea after a bow-to-stern deep cleaning following a coronavirus outbreak on board.
Theodore Roosevelt was in the Asia-Pacific region when its sailors began falling ill with COVID-19, forcing the aircraft carrier to eventually dock in Guam. One sailor who was infected died, and nearly 850 out of the roughly 4,800 personnel on the ship have tested positive for the virus.
The Roosevelt's commander had called on Navy leadership to evacuate the vast majority of his crew and to disinfect the ship in a letter that leaked to the public and ultimately led to Captain Brett Crozier's firing and the resignation of acting Navy Secretary Thomas Modly.
More than 4,000 sailors who have since tested negative for COVID-19 have been in quarantine in hotels off base. It will take several days to move all of these Sailors back onboard.
After the ship's arrival to Guam on March 27, approximately 700 sailors remained on board to maintain critical ongoing operations and begin the cleaning. Since then, the ship underwent an aggressive, multi-pronged cleaning regimen, which balanced effective decontamination with protecting the ship's critical systems. Spaces were vacated for seven days – four days longer than the minimum recommended by the Centers for Disease Control – before being thoroughly disinfected. For spaces that were continuously operational, sailors cleaned the area before leaving it, while the incoming Sailors cleaned it immediately upon arrival.
Meanwhile, Commander 7th Fleet, Joint Region Marianas, U.S. Naval Hospital Guam, Naval Base Guam and the government of Guam coordinated to isolate and quarantine the ship's Sailors in phases, in accordance with recommended Centers of Disease Control and Prevention (CDC) standards.