Thordon to Eqip New Class of Towboat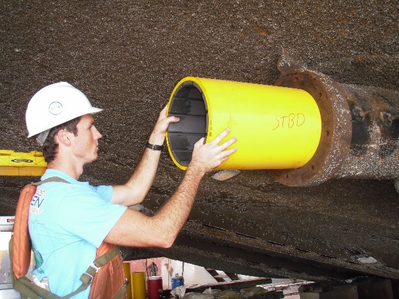 Thordon Bearings, of Burlington, Ont., has received an order to supply four comprehensive shipsets of stern gear for a new class of towboat.
The four boats are being built by U.S. shipyard Master Marine of Bayou La Batre, Ala., for Waterfront Services, based in of Cairo, Ill.. The new vessels have been designed to meet the requirements of Subchapter M, a set of federal rules recently introduced by the U.S. Coast Guard, relating to the inspection requirement for towboats, including seaworthiness standards and safety protocols.
The 67ft x 28ft boats, each powered by twin S6R2-Y3MPTAW Mitsubishi diesel engines, rated at 803hp at 1,400rpm, will drive 70in x 48in x 7in 4-blade, stainless-steel propellers through Twin Disc MG 5321 gearboxes with 5:1 reduction ratio.
Thordon has been contracted to supply its RiverTough propeller shaft bearings for a 6in diameter shaft, along with hardened shaft sleeves, SXL bearings for main and flanking rudders, TG100 tailshaft seals, and ThorPlas Blue steering linkage bushings.
"These are fleet boats, operating virtually 24/7 on the Mississippi River," explained Jim Bright, Thordon's USA Business Development Manager. "They are operating in very abrasive water conditions, frequently running close to the river banks in shallow depths. The customer has previous experience of Thordon products, with some boats having clocked up 60,000 to 70,000 hours of trouble-free operation."
Steven Authement, from the sales and business development team at Master Marine, said that the decision to specify Thordon stern gear was made by the customer, based on the good performance of the company's products on other vessels. "Master Marine is very happy to be teaming up with Waterfront Services to provide these latest fleet boats with the best heavy-duty equipment available that's capable of meeting Subchapter M requirements."
The first two vessels in the series, Miss Deborah and Tom Toretti, have already been handed over, in October 2017 and January 2018, respectively. The remaining two, Sam P. Hise and Rick Pemberton are scheduled for delivery in April and July 2018.
Thordon's RiverTough water-lubricated bearings were developed specifically for use in abrasive-laden dirty water such as that found in the Mississippi River system. When used in combination with hard-coated nickel-chrome-boron (NiCrB) shaft sleeves and a TG100 shaft seal, the arrangement can last twice as long as the rubber bearings.
The TG100 tailshaft seal uses high-quality, hard wearing silicon carbide faces and Thordon's proprietary elastomeric polymers to offer the optimum combination of strength/stiffness and flexibility/elasticity. The seal requires no routine maintenance, and although designed for abrasive conditions, it is equally at home in clean water.