Transas to Promote Fleet Efficiency for Wilson Ship Management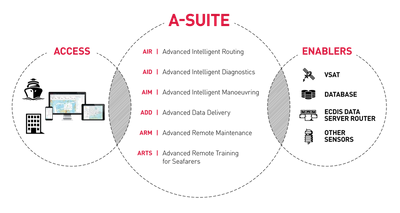 Transas said it booked an order in Q1 2018 with the Norway-based fleet operator Wilson ASA to supply a Fleet Operations Solution (FOS) including onboard navigational and communication components to provide enhanced connectivity for business communications and crew services, and access to fleet data from shore-based locations for complete situational awareness.
For Transas, which was acquired by Wärtsilä in May 2018, the contract marks one of the first applications of the Thesis concept within Wärtsilä's Smart Marine Ecosystem vision, which uses high levels of connectivity and digitalization. Thesis creates a collaborative environment for ship operations by connecting fleet operations with the ships, the port and with coastal traffic management, using shared data to increase safety, reliability and efficiency.
The solution incorporates elements of the recently launched A-suite portfolio, a portfolio of decision support tools developed by Transas that adopt machine-learning techniques in a maritime setting to increase navigational safety and enhance efficiency. The FOS comprises an intelligent tool kit designed to improve vessel operations, while releasing resources for other work tasks, thereby promoting improved fleet efficiency, safety and compliance. As a managed service, the FOS is delivered with fixed monthly fee payment terms, which cover ECDIS charts and associated updates, and maintenance. It incorporates all airtime costs, and brings predictability to data services and satcom fees.
Wilson will also use the Advanced Remote Training for Seafarers (ARTS) module, an e-learning solution within A-Suite with online access to manufacturer approved, type specific training courses for Navi-Sailor ECDIS. This is fully compliant with SOLAS, ISM and STCW requirements.
"This landmark contract with Wilson to roll out the Fleet Operations Solution demonstrates the value that digital solutions can add to large fleet operations in today's business environment. Joined-up technology has a definite role to play in the marine sector's transition to a new era of efficiency," said Frank Coles, Transas Leader for Wärtsilä Voyage Solutions.
"For Wilson's extensive fleet operations, flexibility and reliability are of the utmost importance. We have worked with Transas for several years, and see them as a trustworthy and competitive partner in developing the systems needed to secure our most efficient operations, and we expect that within a short period Transas will be able to equip our vessels and support them" said Thorbjørn Dalsøren, General Director, Wilson Ship Management.