UAE, Greece, USA: Worst Vessel Dumpers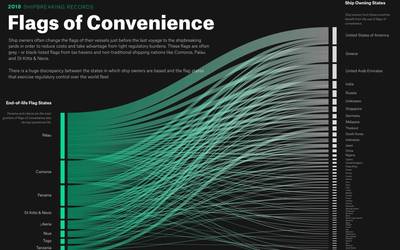 The United Arab Emirates (UAE), Greece and the United States of America (USA) top the list of country dumpers of ocean-going commercial vessels in 2018, according to new data released today by the NGO Shipbreaking Platform.
UAE owners were responsible for the highest absolute number of ships sold to South Asian shipbreaking yards in 2018: there were 61 ships in total.
Greek owners, beached 57 vessels out of a total of 66 sold for demolition. American owners closely followed with 53 end-of-life vessels broken up on South Asian tidal mudflats.
The 'worst corporate dumper' prize goes to the South Korean liner Sinokor Merchant Marine, said NGO Shipbreaking Platform. The company, which has been loss-making and is about to merge its container operations with Heung-A, sold 11 ships for breaking on the beaches in 2018: eight vessels ended up in Bangladesh and three in India, where in April, during the demolition of Sinokor's PLATA GLORY at Leela Ship Recycling Yard, a worker died hit by a falling iron plate.
Norwegian Nordic American Tankers (NAT) - incorporated in Bermuda and stock-listed in New York - is runner-up for the 'worst dumper' prize. Last year, NAT reported having earned USD 80 million for the sale of eight vessels for breaking. Three were sold to Alang for breaking and five were sold to breakers in Chittagong.
According to local sources in Bangladesh, the cutting operations of these ships started without required government authorisations. The sale of two additional vessels to yards in Bangladesh with particularly poor track records and where two workers were killed in 2018, prompted Norwegian pension fund KLP to blacklist the company.
Seven vessels were sold to beaching yards for dirty and dangerous scrapping by German owner Dr Peters GmbH & Co KG. According to local sources, fitter Md Samiul lost his life while scrapping Dr Peters' DS WARRIOR in December 2018.
Other known shipping companies that in 2018 sold their vessels for the highest price to the worst breaking yards include: Chevron, Costamare, H-Line, Louis plc, Seabulk, SOVCOMFLOT, Teekay, Zodiac Group and CMB. Belgian CMB is still under investigation for the export of the MINERAL WATER to Bangladesh in 2016.