June US-flag Great Lakes Shipping Unchanged from 2016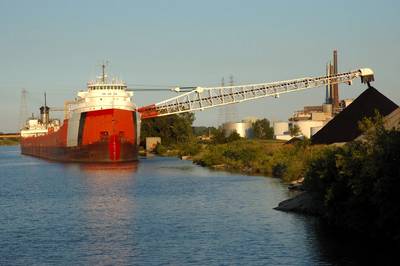 U.S.-flag Great Lakes freighters (lakers) moved 9.7 million tons of cargo on the Great Lakes in June, a virtual repeat of a year ago, according to the
Lake Carriers' Association (LCA)
. However, this June's shipments were down 3.6 percent from the month's long-term average.
Iron ore cargos for steelmaking totaled 4.9 million tons, an increase of 3.5 percent compared to a year ago.
Coal loadings rose 8.1 percent to 1.6 million tons. The increase was almost entirely due to higher shipments of low-sulfur coal from Superior, Wisc.
Limestone cargos hauled in U.S. bottoms totaled 2.6 million tons, a decrease of 10.6 percent compared to a year ago.
Year-over-year U.S.-flag cargos total 30.6 million tons, again a virtual tie with the same point in 2016. Iron ore shipments have increased 5.7 percent to 17.9 million tons. Coal cargos have risen 3.2 percent to 4.5 million tons. However, shipments of aggregate, fluxstone and scrubber stone – 6.5 million tons – have dipped more than 13 percent.