Video: President Trump Visits Fincantieri Marinette Marine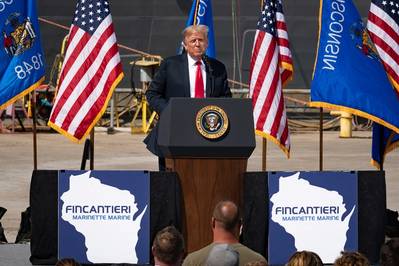 President Donald Trump visited Fincantieri Marinette Marine Thursday following the Wisconsin shipyard's recent contract award to design and build the U.S. Navy's first-in-class FFG(X) guided-missile frigate.
The first U.S. president to visit the Marinette Marine shipyard, Trump toured the facilities where Freedom-class Littoral Combat Ships (LCS) are currently built and met with employees before delivering remarks in which he pledged support to the U.S. shipbuilding industry and congratulated the shipyard for winning the multibillion dollar frigate contract.
"Not long ago, the future of this historic shipyard was looking—can I use the word bleak? Yes, I think we can—it was looking bleak," Trump said in his remarks. "But this past April, Marinette's fortunes turned around, and they turned around quickly, as part of my administration's colossal rebuilding of the United States military."
In late April, Fincantieri Marinette Marine was awarded the FFG(X) frigate contract, worth up to $5.5 billion if all options are exercised. The initial award of $795 million is for the detailed design and construction of the first guided-missile frigate, with options for nine additional ships.
"The first-in-class FFG(X) will not just be a win for Wisconsin workers, it will also be a major win for our Navy," Trump said. "There's never been anything so advanced as what you're building. It's amazing. The ship is 30% more powerful than the previous generation."
Over the course of his roughly 25-minute speech, Trump mentioned several shipbuilding projects underway at various shipyards across the country, including ongoing U.S. Coast Guard Cutter programs, the newly awarded USCG polar icebreaker and even construction for the Staten Island Ferries. On several occasions he referenced various efforts to bolster both America's shipbuiling industry and U.S. military might, such as his administration's commitment to funding the 350-ship Navy.
"As long as I'm your president, America will never lose that shipbuilding talent of capability. It won't lose that excellence or the expertise of the men and women of Marinette Marine. We'll never lose that," Trump said.
Marinette Marine was bought by Fincantieri in 2009, and the global shipbuilding giant, which owns two additional shipyards in the Great Lakes region, has since invested $180 million in the shipyard, with an additional $200 million allocated for infrastructure and improvements to accommodate work on larger ships in the years ahead.
Trump suggested in his remarks that the shipyard is positioned to win additional Navy contracts once expansion and renovation work wraps up at the shipyard. "You are going to be a very big part of the U.S. Navy, and there are other things coming," Trump told shipyard employees.
Trump also said Saudi Arabia's $1.3 billing order placed in late 2019 for four frigates to be built by Fincantieri Marinette Marine came after a "strong recommendation" from his administration.
"We are honored to have the President here in Marinette," said Dario Deste, President and CEO of Fincantieri Marine Group. "It means so much to the men and women who put their hearts and souls into building tremendous warships for this country."
"We are grateful of the President, Congress and the Navy for their continued faith and confidence in our ability to give them the world's greatest frigate," Deste said.
Ahead of Trump's shipyard visit, former Vice President Joe Biden's campaign released a statement criticizing the trip.
"Today, Donald Trump is in Marinette to take credit for Obama-Biden administration-fueled successes in an attempt to paper over the fact that Wisconsin has been bleeding blue-collar manufacturing jobs over the past few weeks. Instead of offering real relief to working families, he's trying to claim credit for progress in Marinette he did not build," the statement said, in part. "The Obama-Biden administration invested in shipbuilding in Marinette and fostered good-paying jobs across the Fox Valley to Michigan's Upper Peninsula for the better part of a decade."
Marinette Marine and partner Lockheed Martin won the contract for the first Freedom-class LCS during the George W. Bush administration, followed by additional orders and contract modifications throughout the Obama and Trump administrations.