Video: Trump Says US is Working to Acquire 10 Icebreakers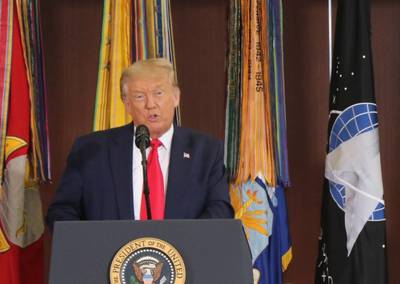 President Donald Trump says the U.S. is hashing out a plan to acquire up to 10 additional polar icebreakers for the U.S. Coast Guard.
Trump, who over the years has emphasized his administration's commitment to growing the Coast Guard's icebreaker fleet, outlined the new plans in vague terms within remarks delivered at Southern Command headquarters in Doral, Fla., Friday.
The President did not specify how the icebreakers would be obtained, or whether the vessels would be newbuilds, purchased secondhand or leased, but he said his administration is working toward a deal with "a certain place that has a lot of icebreakers" to acquire the vessels quickly and at a substantially lower cost.
"We have under construction right now the largest icebreaker in the world, and we're going to be trying to get, if we can, an extra 10 icebreakers," Trump said. "We only have one. Russia has 40. We have one. So, we will have two, but we think we'll have 10 because we're trying to do a deal with a certain place that has a lot of icebreakers, and we're seeing if we could make a really good deal where you can have them very fast . . . We're working on it, and I think we can surprise you at a very good price, which will be nice—much cheaper than the one we're building. And that's also nice. You can do about five of them."
The U.S. currently has two operational but aging polar icebreakers, the heavy icebreaker USCGC Polar Star commissioned in 1976 and larger but less capable medium icebreaker USCGC Healy commissioned in 1999. Another heavy icebreaker USCGC Polar Sea is inactive.
Coast Guard and government leaders have long sought a larger and renewed fleet of icebreakers to meet expanded service requirements brought on by dynamic changes in the Arctic that have opened the region to increased activity.
Pascagoula, Miss. shipbuilder Halter Marine in 2019 won the $746 million contract to build up to three of the Coast Guard's new Polar Security Cutters (PSC) (worth up to $1.9 billion if all options are exercised), with construction for the first vessel slated to begin in 2021 and delivery scheduled in 2024. When completed, the new PSCs will be 460 feet long and will have a full load displacement of 23,300 tons, larger than Polar Star and Healy yet smaller than Russia's new 25,000-ton Project 22220 class vessels and the mega 69,700-ton Leader series nuclear-powered icebreaker currently under construction.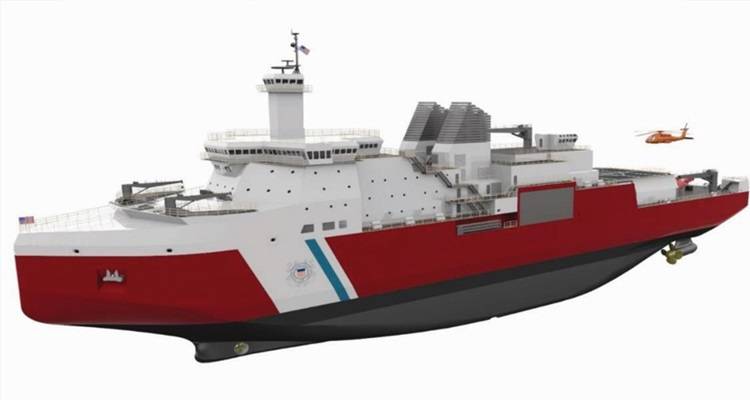 The new PSC will renew the Coast Guard's aging icebreaker fleet (Image: Halter Marine)
Last month, Trump ordered a review of the country's requirements for icebreaking capabilities in the Arctic and Antarctic, with the aim to have a fleet in place and operational by 2029.
The White House memorandum requested the Department of Homeland Security examine other options to grow the Coast Guard's icebreaker fleet, including potentially leasing vessels from partner nations "as a near- to mid-term (Fiscal Years 2022-2029) bridging strategy to mitigate future operational degradation of the USCGC Polar Star".
Homeland Security will also be required to look into expanded capabilities such as "unmanned aviation, surface, and undersea systems; space systems; sensors and other systems to achieve and maintain maritime domain awareness; command and control systems; secure communications and data transfer systems; and intelligence-collection systems" and "evaluate defensive armament adequate to defend against threats by near-peer competitors and the potential for nuclear-powered propulsion".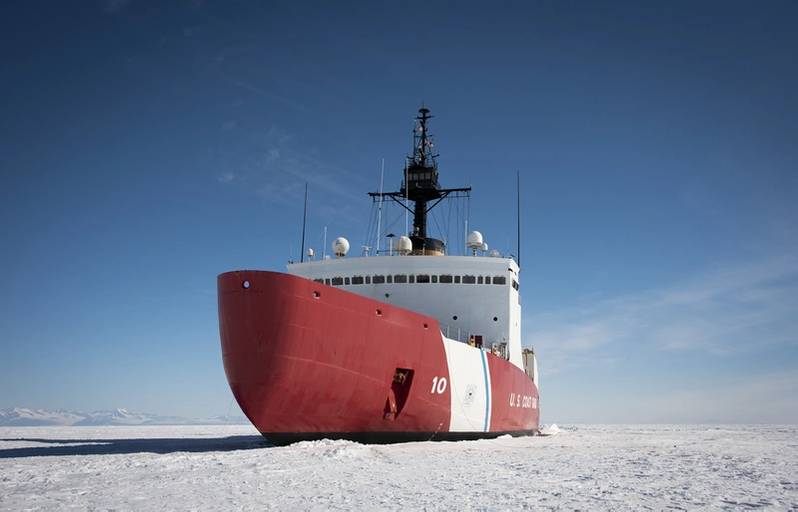 Polar Star (U.S. Coast Guard photo by NyxoLyno Cangemi)