USS George Washington Replaced in Philippine Relief Effort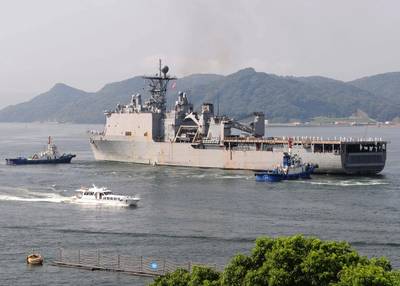 Dock landing ships 'USS Ashland' (LSD-48) and 'USS Germantown' (LSD-42) have replaced aircraft carrier 'USS George Washington', in the concerted efforts to extend relief efforts to typhoon victims in the Visayas region of the Philippines.

Ashland and Germantown have aboard a combined total of approximately 900 Marines, elements of the 31st Marine Expeditionary Unit, based in Okinawa, Japan.



"Having amphibious ships here, along with the 31st MEU, brings more logistical capability and capacity to augment our ongoing relief operations in Visayas," said Armed Forces of the Philippines Vice Chief of Staff Lt. Gen. Alan R. Luga. 


"We are very thankful to the United States Armed Forces for sending one of their aircraft carriers to the Philippines and immediately supporting our humanitarian assistance and disaster relief operations following the devastation of super typhoon Yolanda," Luga said.



Luga added that USS George Washington played an important role in air transport when most airports are non-operational in critical areas in Eastern Visayas and the amphibious ships have a more robust ship-to-shore movement ability. 

Ashland and Germantown carry landing craft, both air cushioned and utility, for moving large amounts of cargo and equipment ashore, and the 31st MEU brings heavy equipment which could be used to move debris.