Twiflex to Debut New TLB System at WorkBoat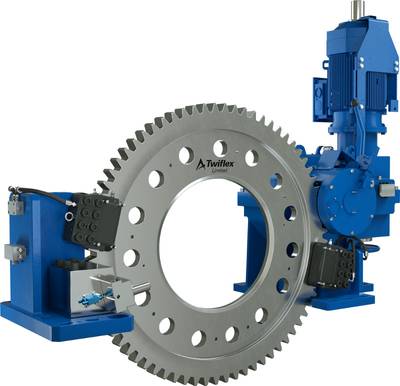 Twiflex Ltd., a supplier of brakes and clutches to the marine industry, said it will launch its new TLB (Turning, Locking and Braking) system at WorkBoat International, November 30 to December 2, 2016 in New Orleans.
Originally designed in-house by Twiflex, part of the Altra Industrial Motion Group, for icebreaking vessels, the TLB system has been further developed for a wider range of marine propulsion requirements to consolidate three separate interfaces (Turning, Locking and Braking) into one
multifunctional solution
.
The modular nature of the design offers each function – Turning (T), Locking (L), Braking (B) – individually or as a combination (TL, LB or TB) in addition to the full TLB system. Initially based on five standard brake disc sizes, continuous turning torques of up to 454 kNm are available and, depending on configuration, an alternative indexing system is offered as an option. Operation local to the equipment is provided by a compact power unit and control panel or remote pendant.
In addition to the TLB system, Twiflex and its sister company, Wichita Clutch, will exhibit a spread of solutions developed for
maritime applications
. Through Altra's global support network, and in partnership with more than 20 brands within the organization, Twiflex and Wichita engineers are able to develop complete
power train solutions with
individual components which have been designed for seamless integration.