Wärtsilä Launches Acceleration Center in Singapore, Co-Creates IntelliTug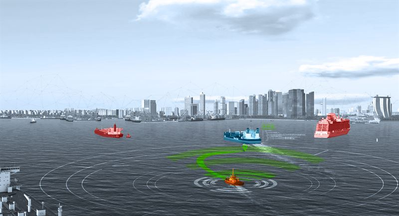 Wärtsilä has opened its purpose-built Acceleration Center in Singapore to promote innovation and collaboration with industry, academia and local partners to strengthen and develop Singapore's maritime ecosystem.
The opening follows an agreement signed between Maritime and Port Authority of Singapore (MPA) and Wärtsilä in April 2018 to collaborate in areas of intelligent vessels, connected smart port operations, cyber-physical security, and digital acceleration with start-ups.
Wärtsilä will also address cybersecurity challenges in connected maritime operations by launching its Maritime Cyber Center of Excellence as part of the Singapore Acceleration Center.
"The setup of the Wärtsilä Acceleration Center in Singapore will support our aim to be the global maritime hub for connectivity, innovation and talent, and add to the vibrancy of our maritime innovation eco-system. I am pleased that Wärtsilä and PSA Marine are working together to develop and test the autonomous harbor tug as an initiative under the MPA Living Lab. Such projects will enable us to develop new concepts and capabilities that support more efficient operation and regulation of our future port," said Dr. Lam Pin Min, Senior Minister of State, Ministry of Transport and Ministry of Health, who was the guest of honor at the Center launch event.
The first project to be co-created at the Wärtsilä Acceleration Center is the Wärtsilä IntelliTug. The project to develop a harbor tug with autonomous navigation is being carried out together with MPA and marine services provider PSA Marine. The vessel will be capable of performing a range of routine missions designed to further improve tug safety and efficiencies, while reducing operator workload and pressures in one of the world's most demanding harbor environments.
The IntelliTug project will involve a combination of technologies, innovations and capabilities within Wärtsilä's vast portfolio, to generate a tailored solution for Singapore's unique situation. It will deliver tangible customer value and provide a notable contribution to regional sustainability goals. This will include a new-to-market near-field wideband radar and real-time video analytics, integrated with a light-weight human-centric mission control system to supervise the close quarters and alert users on collision avoidance using adaptive, dynamic route planning capabilities. In 2019, together with MPA and PSA Marine, Wärtsilä will test-bed the IntelliTug concept on an existing tugboat in Singapore's actual operational port.
"In contrast to many existing conceptual ideas in the industry, with IntelliTug we are creating a technology that will find a real application in the commercial maritime market. We want to help the industry improve by leveraging the use of automation technologies on ships to boost safety and efficiency, while at the same time augmenting the human's role within the loop. This solution will empower Tug Masters by actively assisting the crew in different situations, allowing them to focus on critical tug operations whilst dynamically maintaining safe distances during navigation and preventing potential collisions. It will also give them additional decision-making support and the ability to work with their colleagues ashore via real time data connection," said Marco Ryan, Chief Digital Officer and Executive Vice President, Wärtsilä Corporation.